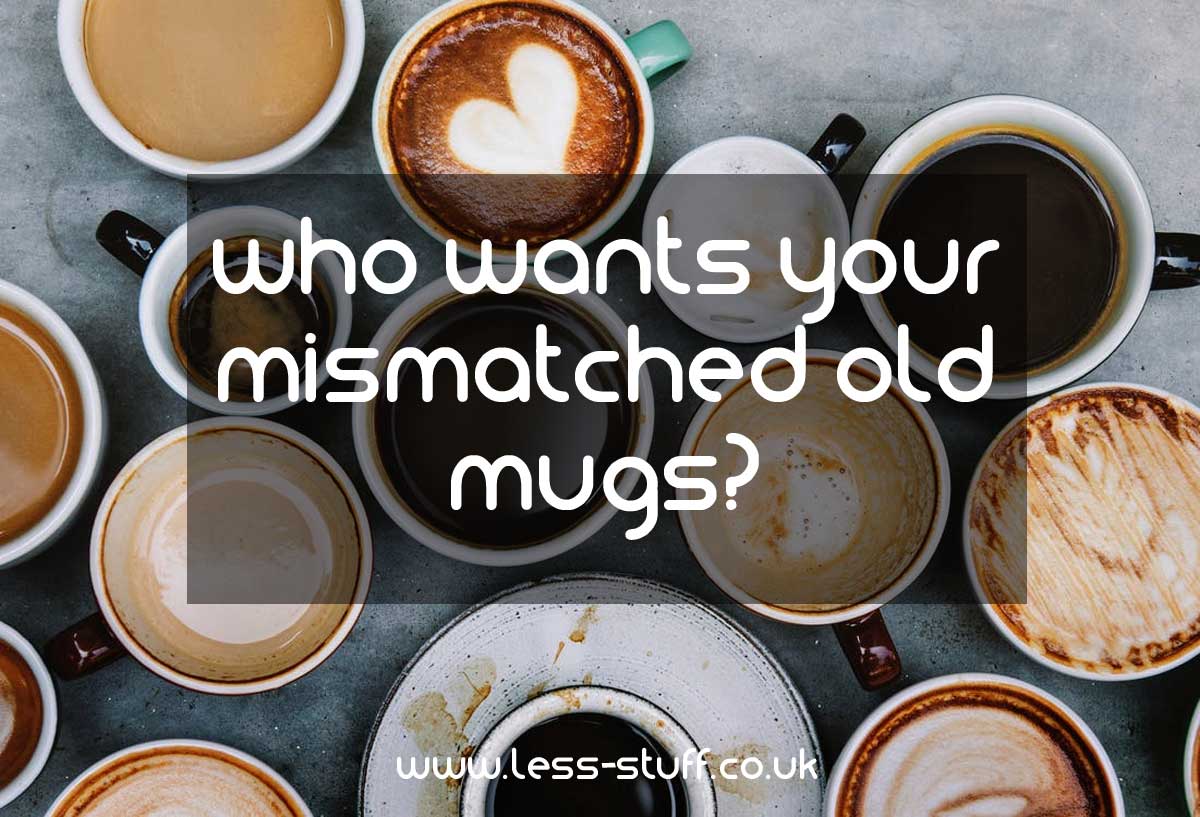 Who wants your old mismatched mugs?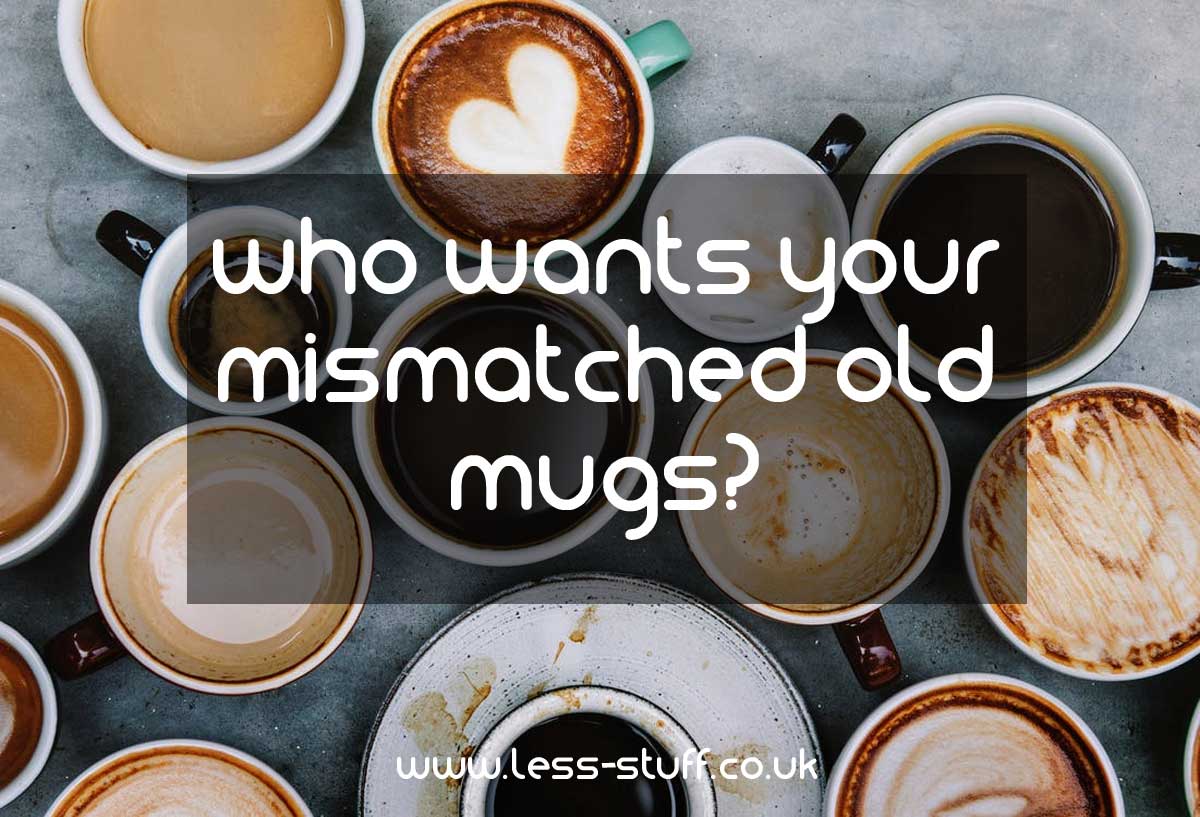 This is a crowd sourced post with loads of amazing ideas from the less-stuff Facebook group.
Heather asked
"Is there anywhere that appreciates old mugs? They are clean and unchipped but odd. I can't imagine the local charity shops wanting them but it seems wrong to bin them."
"

We have someone local who does a LOT of community art projects with mosaic so any crockery the charity/op shops decide is too tatty goes to her. Those who know her personally just hand them straight on. Her place is like a dragon's lair only instead of gold and jewels it's broken crockery, glass bottles and tin cans! (The latter two get used in the ferrous concrete constructions that then get mosaic over them)."

Anna

"Student union bars. Ours has a rack of mugs people can borrow instead of using a disposable cup

." Lisa
"

I've taken mugs to the charity shop and seen them on sale in charity shops

." Anna

"Churches that hold coffee mornings, playgroups, village halls, homeless charities." Michelle

"

I gave some of mine to a special school that was running a mug tombola for Christmas. I think they put things in them as well.

" Jan
"

We use a local community cooperative as a base for our home education meet ups and they definitely accept secondhand mugs, as would our local True Junk Food Project cafe.

" Juno
"

In this cold weather, offer any delivery people a hot drink and let them keep the mug. Or donate them to one of the causes suggested above." Carron

"

Ask food banks, folks might appreciate a mug filled with packets of mug friendly foods, like cuppas soups, mash pots, noodles etc

." Sarah
"Freecycle." Car
"I'

m pretty sure charity shops do take them." Toets

"

Charity shops LOVE odd mugs!! Take it from someone who know, I manage one." Philippa

"

Local charities, homeless shelters, women's refuge, community projects would all be grateful. I work for a charity and we're always having to buy new mugs. We don't care if they don't match." Kelly
If you are thinking of decluttering some old mugs click here for a detailed guide and walkthrough that will make it painless and easy.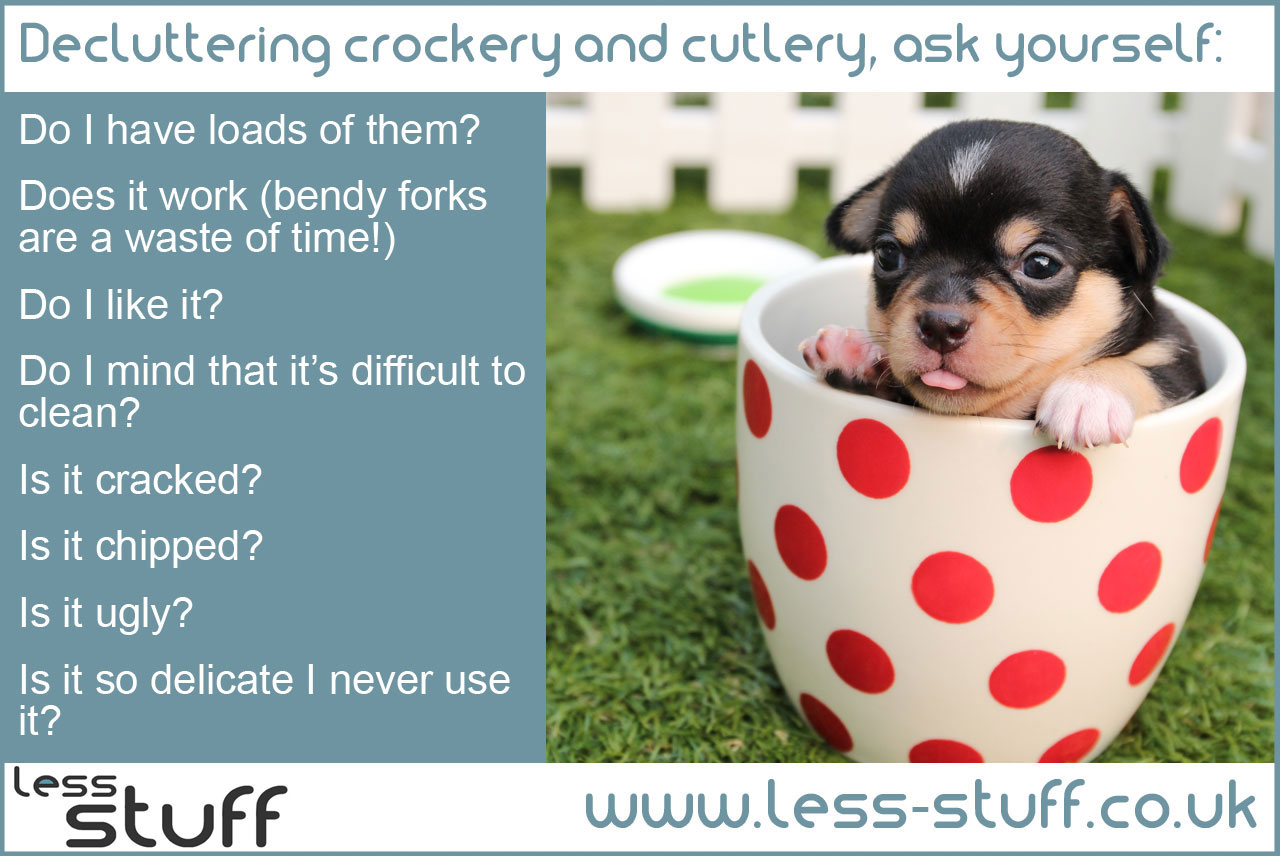 I'm Lisa Cole. I'm a designer and writer who lives in Bristol. Less-stuff is about my journey to live a more organised life. I document little things I can change to live more sustainably. I'm not a minimalist!
If you found this post interesting and want to discuss it you can find me in the less-stuff Facebook group or you can Tweet me here.
Declutter the easy way
Have you got too much stuff?
Is the thought of decluttering overwhelming?
Would you like a free way to regain control of your clutter?
Start here with a free, easy decluttering calendar.
You can print it off as many times as you like.
You can start and stop whenever you like.
The calendar includes:
A checklist of questions to help you declutter the right things.
A list of ideas for rewarding yourself after you have decluttered.
A tiny decluttering challenge every weekday for 4 weeks.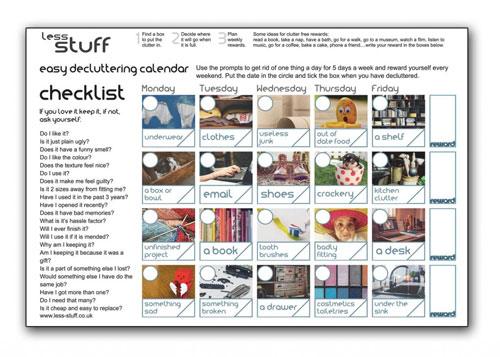 It is yours for free as a thank you for joining the less-stuff tribe.