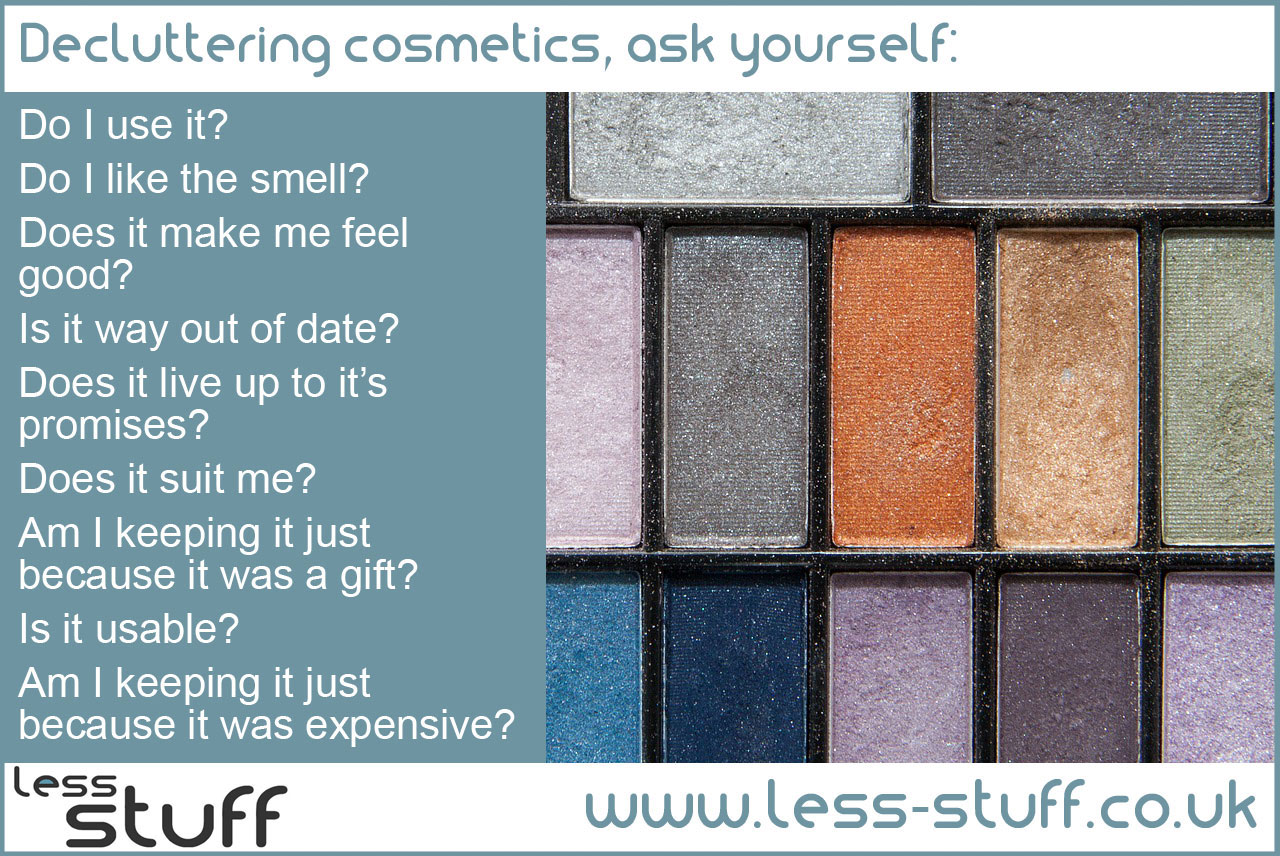 Declutter Cosmetics and Toiletries Easily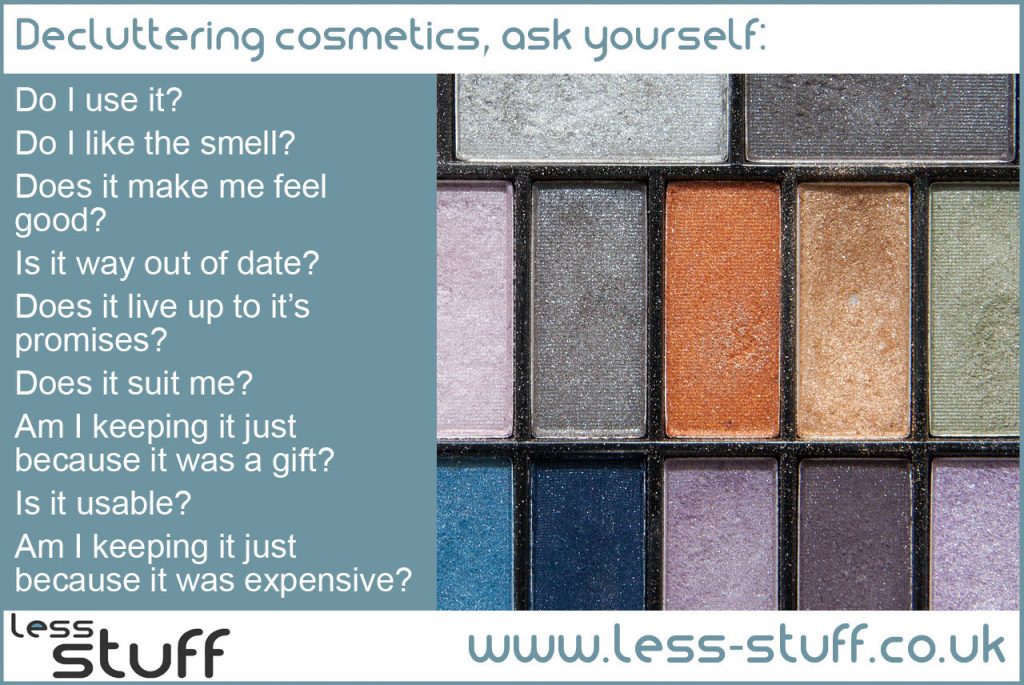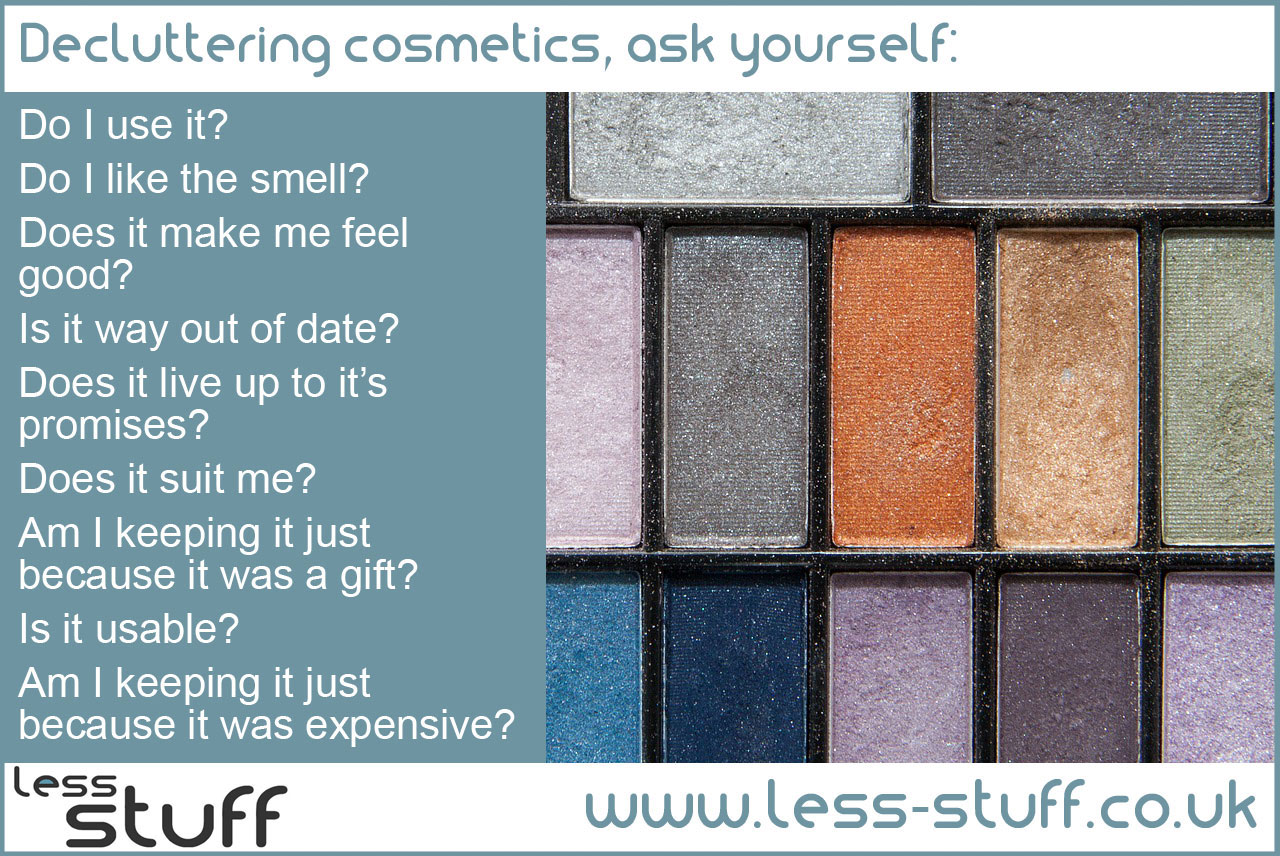 There is no need to keep moisturiser just because it cost a lot of money if it doesn't work for you. There is no need to keep out of date mascara or gloopy nail varnish. There is no need to keep gift sets of bath stuff when you don't like the smell.
Head for the bathroom and find 5 things that you do not need.
Ask yourself
Do I use it?
Do I like the smell?
Does it make me feel good?
Is it way out of date?
Does it live up to it's promises?
Does it suit me?
Am I keeping it just because it was a gift?
Is it usable?
Am I keeping it just because it was expensive?
Remember
It's ok to get rid of more than 5 things but don't get carried away!
It's ok to bin stuff that isn't good enough to give away.
Things sometimes have memories attached, if you find this happens to you it's ok to leave it until you have the support you need to cope with it.
It's all ok, don't stress about it just choose 5 things that are obviously not for you right now.
Choose stuff you are happy to get rid of and say goodbye to now.
Thank you to Jane from the less-stuff Facebook group for posting the following links.
If you are decluttering make up and toiletries that have been lightly used please consider donating it to a refuge.
Give and Makeup is a non-profit initiative whose sole purpose is to get everyday essentials into the hands of women and children who need them the most. They say they will take everything apart from lip gloss and mascara but please don't send them old dried up useless stuff. They say "If you would be embarrassed to give it to a friend, please do not send it to these women."
You can read more about Give and Makeup and find the best address to post your usable cosmetics to here:  www.carolinehirons.com/page-give-and-makeup
There are also Beauty Banks who work on the same principal as Food Banks. They have a drop off point in Kensington but you can also post to them. It is worth checking their Facebook page too for more local drop off points.
If you have clean mascara wands ask your vets if they need them, they can use them to clean tiny animals! (Thanks to Beverly for the tip!)