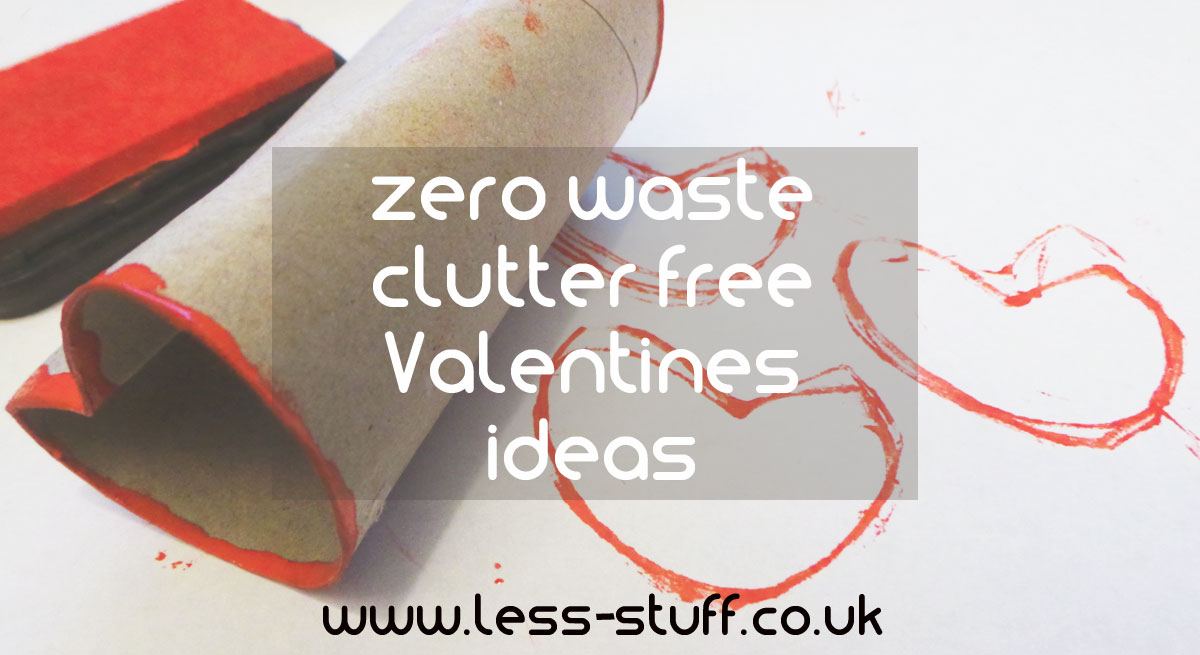 Zero waste Valentines without the clutter or crap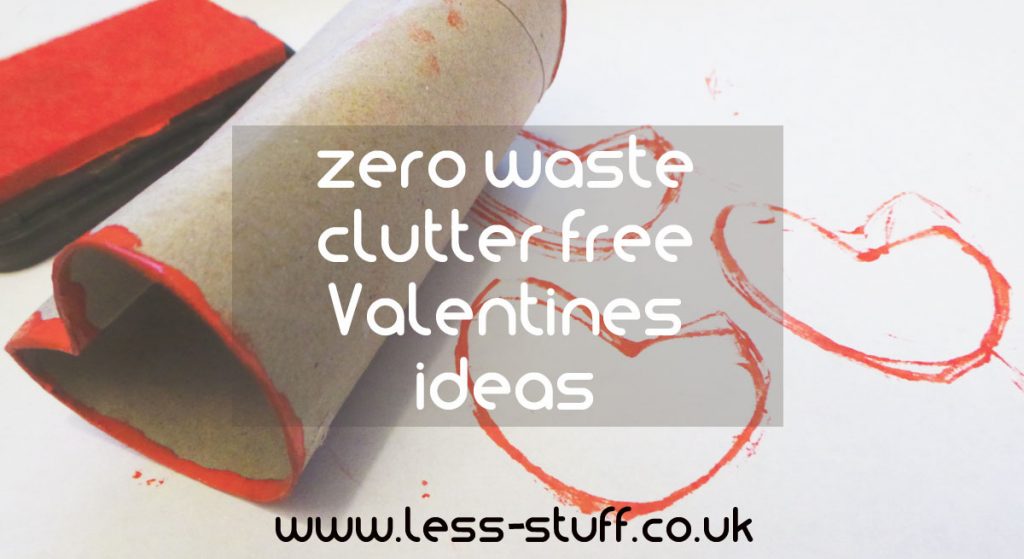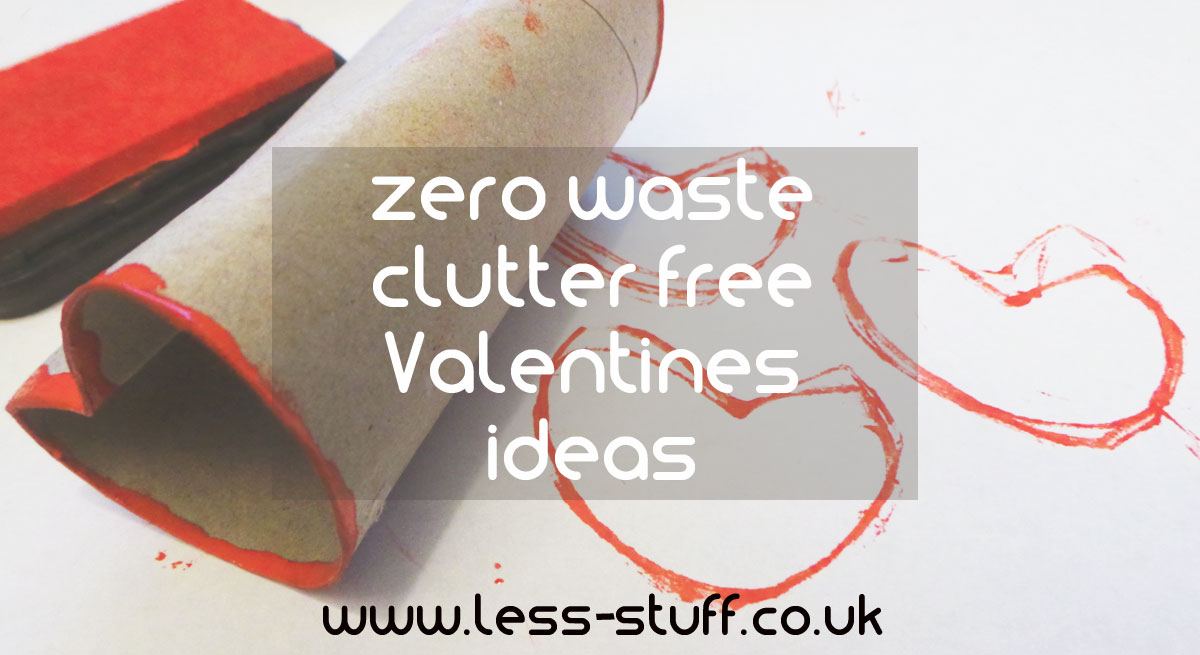 Valentines day is getting out of hand. From light up plastic roses to teddy bears with heart shaped balloons. Do you really need or want any of that? Do you know anyone who would like these throwaway gifts for more than a week at most?
In collaboration with Vicky from Vicky Myers Creations this post has some ideas for Valentines gifts that are properly straight from the heart. Handmade does not need to take a long time, need a lot of skill or cost a fortune. These little projects all use household items and may save some things from the compost and recycling bin too.
If you don't do Valentines day there are still some nice ideas for zero waste hand made presents. Not everything needs to be heart shaped or pink!
Print a card

Depending on the age of the maker, printing hearts with the squashed up end of a loo roll can look charmingly childish or incredibly stylish. There is nothing wrong with a bit of carved potato printing either and you can eat the rest of the potato afterwards. Shops like Tiger or the Works sell cheap ink pads or you can pour a bit of paint into a shallow dish and use that too. Try printing onto newspaper or old wrapping paper to get some background detail.
[amazon_link asins='B00IKN3QUU' template='ProductAd' store='lessstuff08-21′ marketplace='UK' link_id='024ac14f-f076-11e7-842d-9356d79afc1c']
Feed the birds
My tweety little garden visitors would be very happy with some heart shaped bird feeders. Traditionally made with suet, you can also use peanut butter or this recipe uses flour and water with a little syrup. A heart shaped cookie cutter helps but you could cut them by hand if you don't have one. Birds are not fussy about use by dates so you can use flour that looks a bit iffy, polenta that smells stale or the scrappy bits of breakfast cereal left at the end of the packet.
Vouchers
Nothing says love like a voucher to do the vacuuming! Or anything else you might want to offer. There are hundreds of free vouchers you can print out on the internet if you are stuck for ideas. There is a nice big list of them here.
Easy Truffles
If you can mix ingredients together you can make these. The secret ingredient is chocolate spread and there are vegan versions of it too.
You need
Chocolate spread
Icing Sugar
Cocoa powder
Rum or brandy
Optional chopped nuts to roll the truffles in
Scoop out the chocolate spread into a bowl. Add a splash of alcohol and mix in enough icing sugar to make the mixture firm enough to roll into balls. I like them large marble sized. The mixture shouldn't stick to your hands but avoid making it very stiff because you will chill the truffles to harden them. Roll in chopped nuts if you like them and pop them in the fridge to set. They will be chocolaty and creamy. Wrap in tin foil or greaseproof paper and wow your loved one with home made loveliness.
[amazon_link asins='B00E5XGY58′ template='ProductAd' store='lessstuff08-21′ marketplace='UK' link_id='4f056d78-f05d-11e7-a46d-ed5c555bdd48′]
Say it with pom poms
If you have any red or pink clothes or sheets that are too far gone to be mendable, add them to any red or pink yarn scraps to make this lovely tactile pom pom heart. Our brilliant upcycler Vicky Myers has full instructions over at vickymyerscreations.co.uk.
She uses a pom pom maker which I've seen in places like the Works for a couple of quid but you can go old school and use cardboard circles too. I've put a video tutorial at the bottom of this post with some different pom pom options.
I love the way the frayed edges and different colours work together in this pom pom heart! It is a project easy enough to do with small kids and has a few different elements for different abilities. If I got one from an adult my heart would be very warmed.