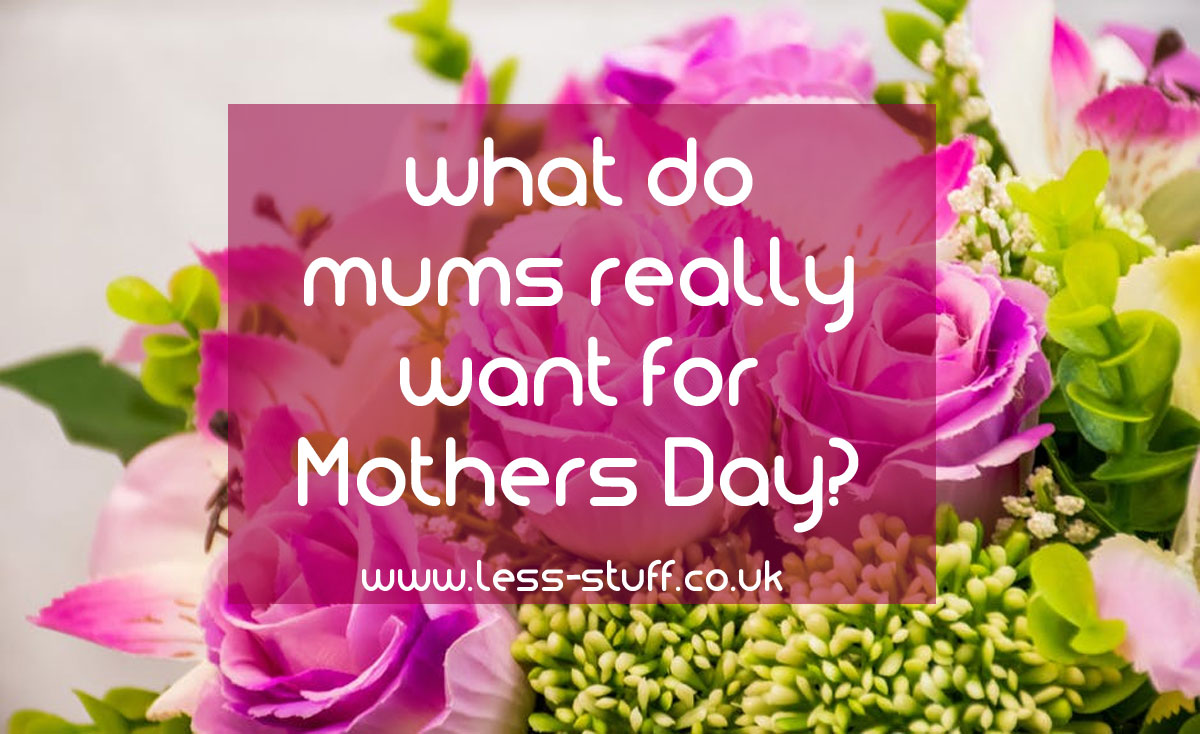 What mums really want for Mothers day (clue, it is not more clutter!)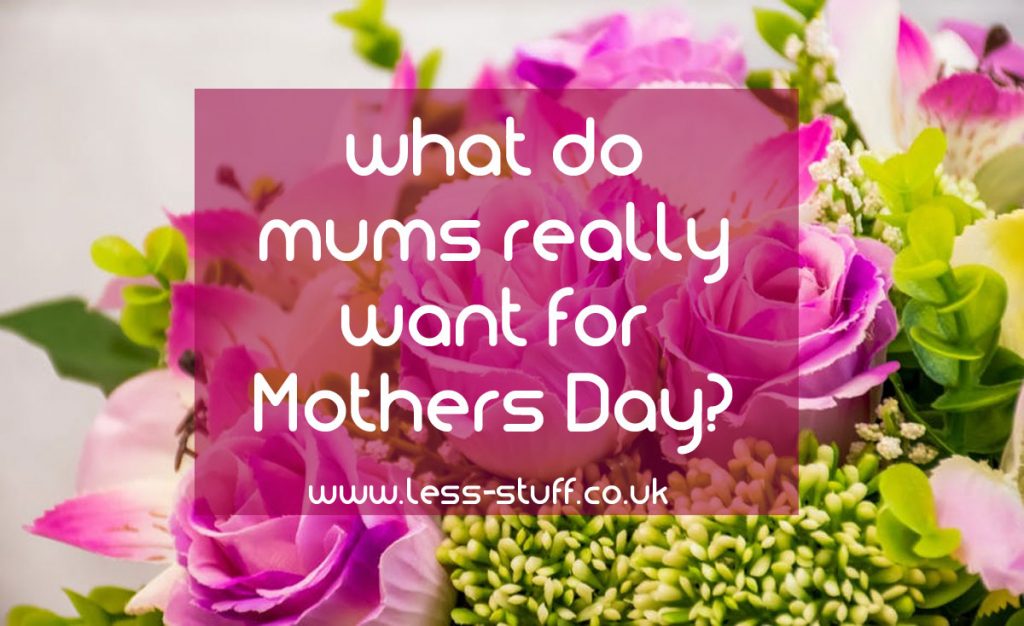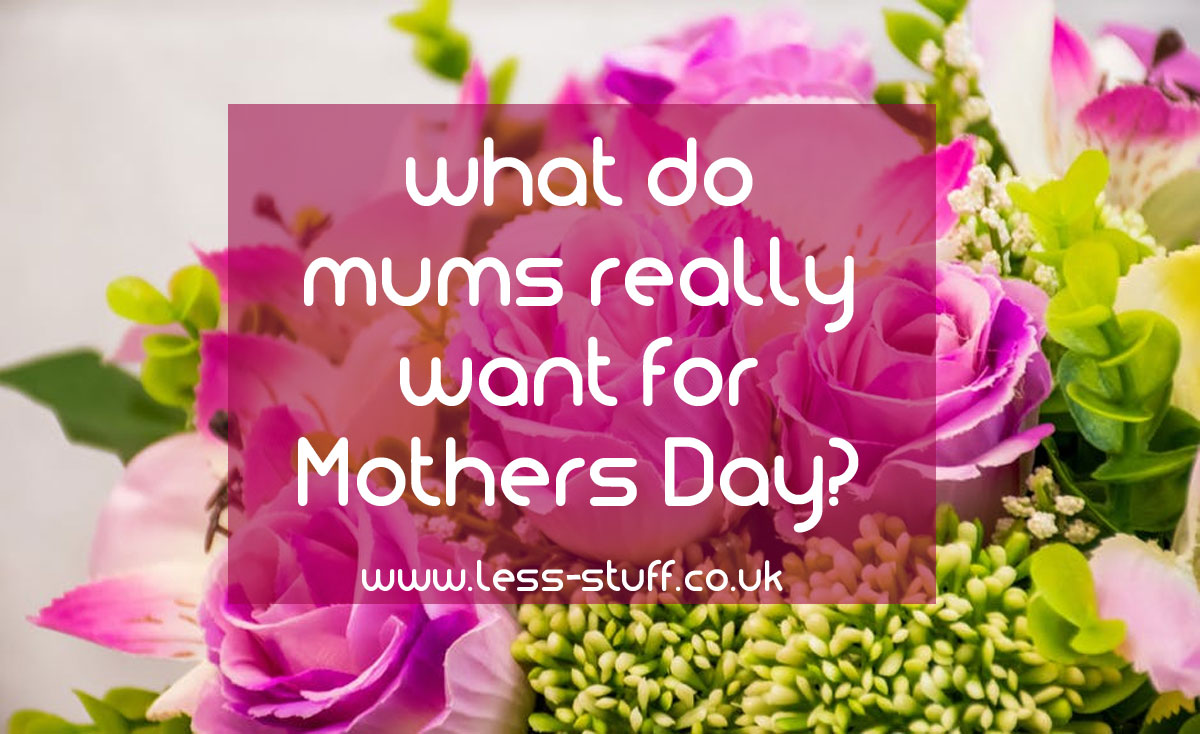 Mothers Day generally catches me unawares. It doesn't have a set day, it is on the fourth Sunday of Lent or three weeks before Easter Sunday. If (like me) that means nothing to you, it is either in March or the start of April and is always on a Sunday.  Google is your friend here!
Just like Valentines Day, the shops will be full of Mothers Day crap. Special teddies, plastic crowns and fake flowers don't make me feel that loved. 'I love mum' mugs, unless hand painted, would not fit in well with my vintage Denby. What I really want is some time to relax and possibly a hand made card. I wondered if others felt the same way, so I asked.
The less-stuff Facebook group came up with some great ideas for things mums really do want. Thank you to Maxine, Joanna, Lynne, June, Jenny, Diane, Jacquie, Bróna, Lara and Jo for your excellent ideas. I also asked a whole bundle of fellow bloggers from the Official UK Bloggers Group for their ideas too. There are a lot of interesting blogs out there so I've used this post as a way to link to them.
Things mums really want
candles,
cupcakes
sewing things
books
seeds
bulbs
gardening things
cooking things
flowers
colouring books for grown ups
colouring pens/pencils
Plants are a really popular idea with lots of mums.
Welsh Mum Christy said "

I'd love a new potted plant for the bathroom – something that will live a long time, doesn't require much maintenance and will help clean the air. Cut flowers are pretty, but a potted plant is simple and sustainable."

Alison suggests

a packet of seeds and her website The Mindful Gardener is full of ideas on how to use them.
Time without
It makes me feel like a terrible mum to say it, but one of the best Mothers Days I had when my son was an exhausting toddler was an "I'm not a Mother Day". His dad took him off for the whole day and I remember the bliss of going to the loo on my own for once.
Sarah from

the cleverly named Mummy's Whine Club said a morning in bed with a good book would be ideal. "If a cuppa and a pancake was delivered too that would be a bonus."
Vicky from Cosy Crochet loves the idea of a lie in and breakfast in bed too.
Latte Lindsay from would love some "Peace and quiet! My kids are always fighting, screaming and just being plain loud! I would love them to sit with a colouring book for an hour or two

????

"
Beth from Twinderelmo has twins so doubly deserves  "

A hot uninterrupted bubble bath (why does everyone need the toilet when you go in?!)"

Emma Reed would like "

Sleep, quiet time and perhaps a nice massage somewhere. Just some serene time."

Andrea from www.mothertonguenotes.com

says "A day off. No kids. No husband." would be an ideal Mothers Day gift.

Gemma from www.mummyswaisted.co.uk wants "Sleeeeeeeeeeep! It's all I've wanted for the last five years

????"

"a day without bickering is nice"
Tasks done by others
A break from doing everyday chores is really popular with lots of mums.
"time is a nice gift. A meal made by my kids (and cleaned up after) would be the best gift
"all I want is time to sleep and not have to prepare dinner now and then."
Kate from 

www.everafterwithkids.com

would like "

Someone else to cook the dinner!"

The Growing Mum Victoria wants  "A cleaning fairy

????

Failing that, child-free time to productively tidy and declutter."

Simple things
Amanda at Mummy 2 Twindividuals has a whole post of simple pleasures every mum would love this Mother's Day. Check it out here:
Time with people
As my son got older I started to cherish time with him more, recent Mothers Days have been spent eating out using special offers or going to the cinema. Kaya from Earning by the Sea summed this up by calling it "Presence over presents"
Taking time to go somewhere or do something as a family can be a wonderful present. How about:
a walk in the country
Vicky from Vicky Myers Creations would like a walk on the beach with no moans!
a local treasure hunt (Groupon often have deals for these)
afternoon tea
a picnic (indoors or out)
Gypsy Soul Gina has a lovely idea with "

A nice country walk with the family followed by a roast dinner in a pub with open fires (and red wine of course)"
Gifts to others
If you don't want to give or receive but others are insistent ask them to buy supplies for refuges, donate to food banks or to the animal rescue instead.
What do mums really want for Mothers Day?
The one thing that stands out in all the ideas for Mothers Day presents is the need for time to recharge. Mums don't need stuff they will never use. They might love a handmade card but they would prefer a decent nap, someone else cooking or a day without a tantrum more than anything else.
There are some brilliant free printable vouchers perfect for Mothers Day on The Frugal Family site. Claire also has a great post about what Mothers Day  is really about. with some ideas for frugal celebrations.
Start decluttering the easy way