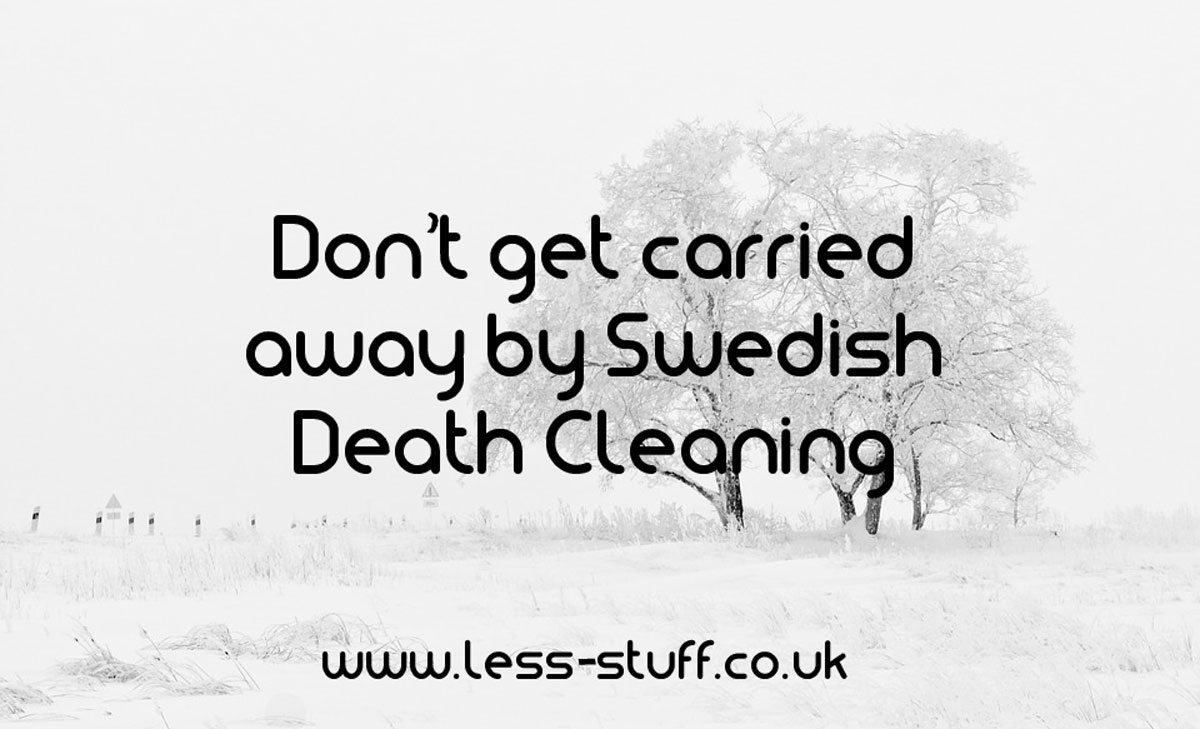 Swedish Death Cleaning, don't get carried away (see what I did there!)
Swedish Death Cleaning, or Döstädning (literally "death cleaning") is all about getting the clutter out of your house so your relatives do not have to deal with it when you die.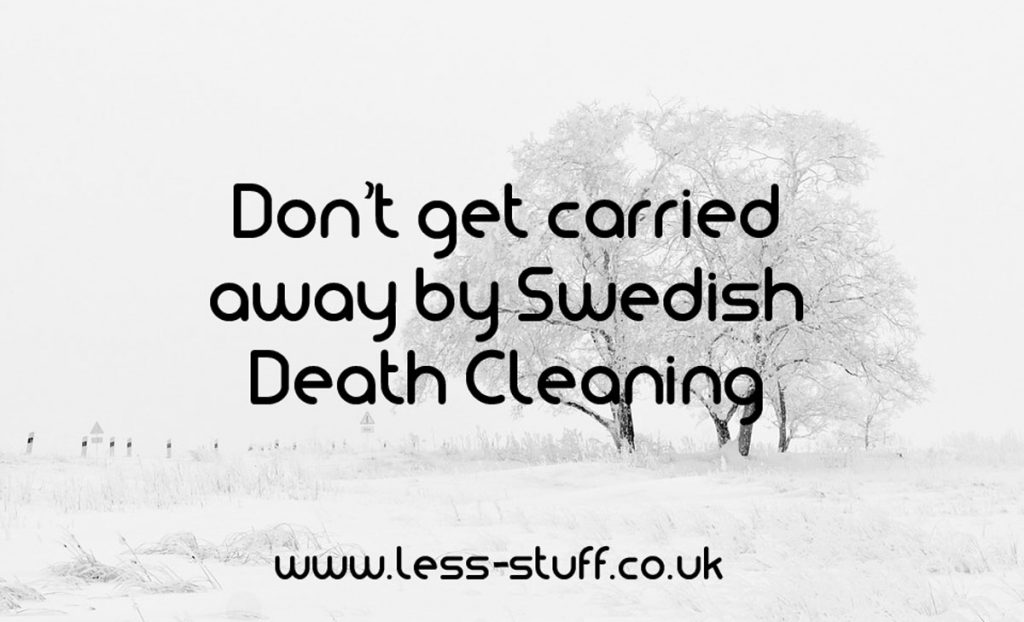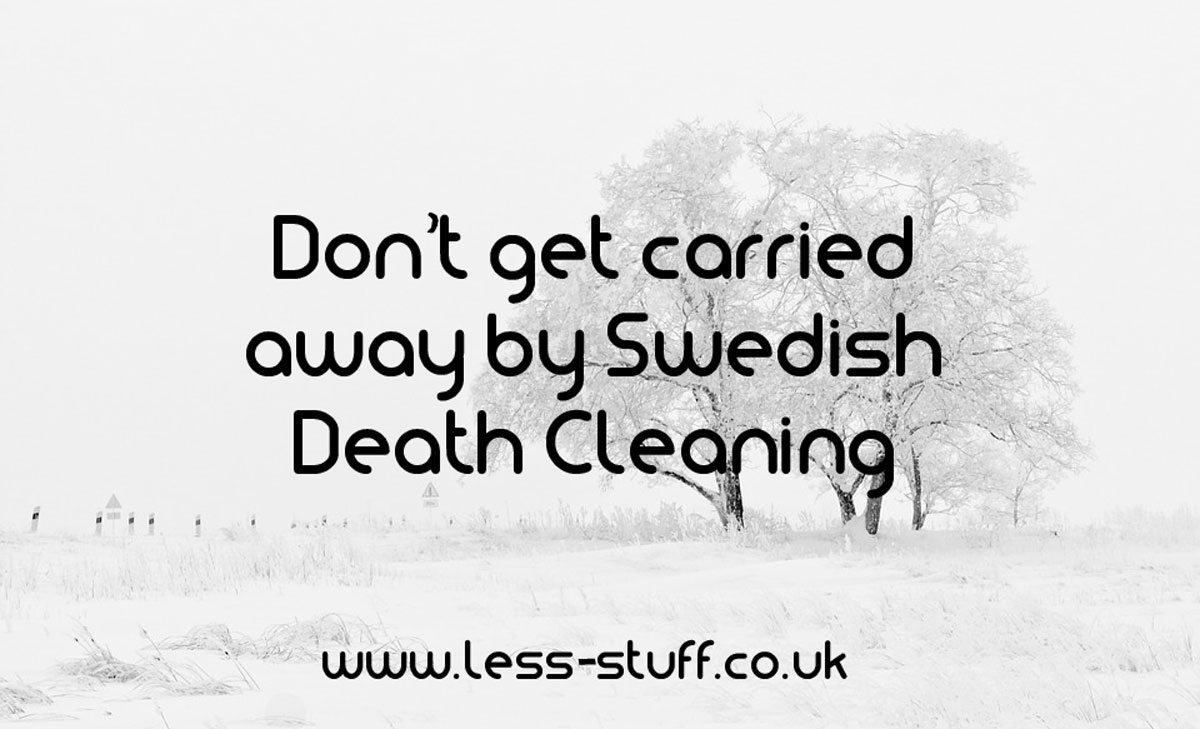 The idea is sound, who wants to leave piles of junk to their loved ones? More importantly, even when you are gone do you want them to find your collection of erm, 'personal' toys or private letters? In practice though, Swedish Death Cleaning reeks of [amazon_textlink asin='0091955106′ text='Kon Marie' template='ProductLink' store='lessstuff08-21′ marketplace='UK' link_id='ef44ff71-afe4-11e7-90f8-81cbbeb82f5e'].  Not only am I insanely jealous of the money that Marie Kondo has made by tweely encouraging people to chuck everything out, I worry that it is not good for us. As a race, human beings bond to our belongings and they become part of us. Getting rid of everything is getting rid of a part of your personality. Ignoring that issue, though the main danger with big decluttering binges is that you can get carried away and get rid of things you later regret.
When should you consider big decluttering purges?
If you have only a couple of months left to live, please find something more fun to do than decluttering. If you have to urgently downsize for any reason you know that it is not rocket science. Get it all in a pile and ruthlessly choose what you can keep, get rid of the rest. Donate what you can, ask your friends to help themselves and enjoy your new minimal life before you reclutter with replacements for the things you threw away by accident in the moment.
Using the best bits of Swedish Death Cleaning
If you have an unknown quantity of time left on earth but want to make it easier for people to deal when you are gone, with then consider what you keep for them. The best bit of advice in [amazon_textlink asin='1786891085′ text='The Gentle Art of Swedish Death Cleaning' template='ProductLink' store='lessstuff08-21′ marketplace='UK' link_id='62b5c306-afe5-11e7-9a94-f32bc0f5bb7c'] is to get rid of anything that might upset the living more once you are dead. "If you think the secrets will cause your loved ones harm or unhappiness, then make sure to destroy them."  And if you are thinking ahead, the question 'Will anyone I know be happier if I save this?' makes a lot of sense. Decluttering things that make you happy now because one day you won't be here is crazy talk though. If whatever the thing is makes you feel good about yourself, keep it, no matter how old you are.
Daily decluttering works better than purges
Crash diets work, they really do. You can shift pounds in a week by simply eating nothing. But crash diets are really not good for us and they do not last. There is growing evidence to prove that dieting actually makes us fatter as our bodies try to protect us from starving. Clutter diets are the same, take a week off work, get rid of all your stuff, live in a buzz of endorphins and tell everyone about your new minimal life, then realise that it would be quite nice to have a sofa again. Winter is coming and you don't have a coat any more, what happened to that book with the story that makes you happy on a cold night and ohhh, that little cat statue would look really good on my empty white shelves…….
Try five a day
If you slowly get rid of just five things a day, for five days a week, that will mount up to over a thousand things decluttered in a year. Slow and gentle decluttering works in the same way that eating healthily instead of crash dieting does. Build up healthy habits and they will last. If you are faced with mountains of clutter and don't know where to start I have written a very comforting book called [amazon_textlink asin='1549637509′ text='The Elephants in the Room' template='ProductLink' store='lessstuff08-21′ marketplace='UK' link_id='12000040-afe9-11e7-a60d-c128c3e9adb2′]. 'Elephants talks you through an easy decluttering process and will help you decide what to keep and what to ditch.
Celebrate living and get rid of anything that makes you feel bad
No matter who gave it to you, how much it cost or how much other people admire it, if a thing makes you feel bad in any way, get rid of it.  If you have anything in your home that might make others feel bad if they found it, then I strongly suggest you get rid of that too. Swedish Death Cleaning is a step too far for this non minimalist but it does have some good advice that can be downsized instead of belongings.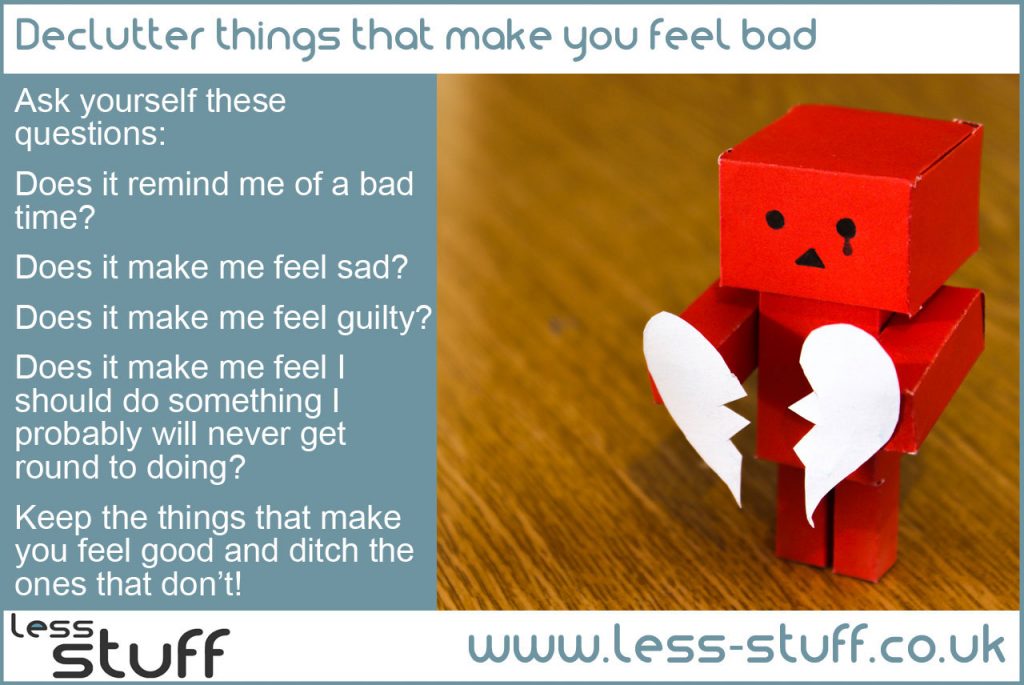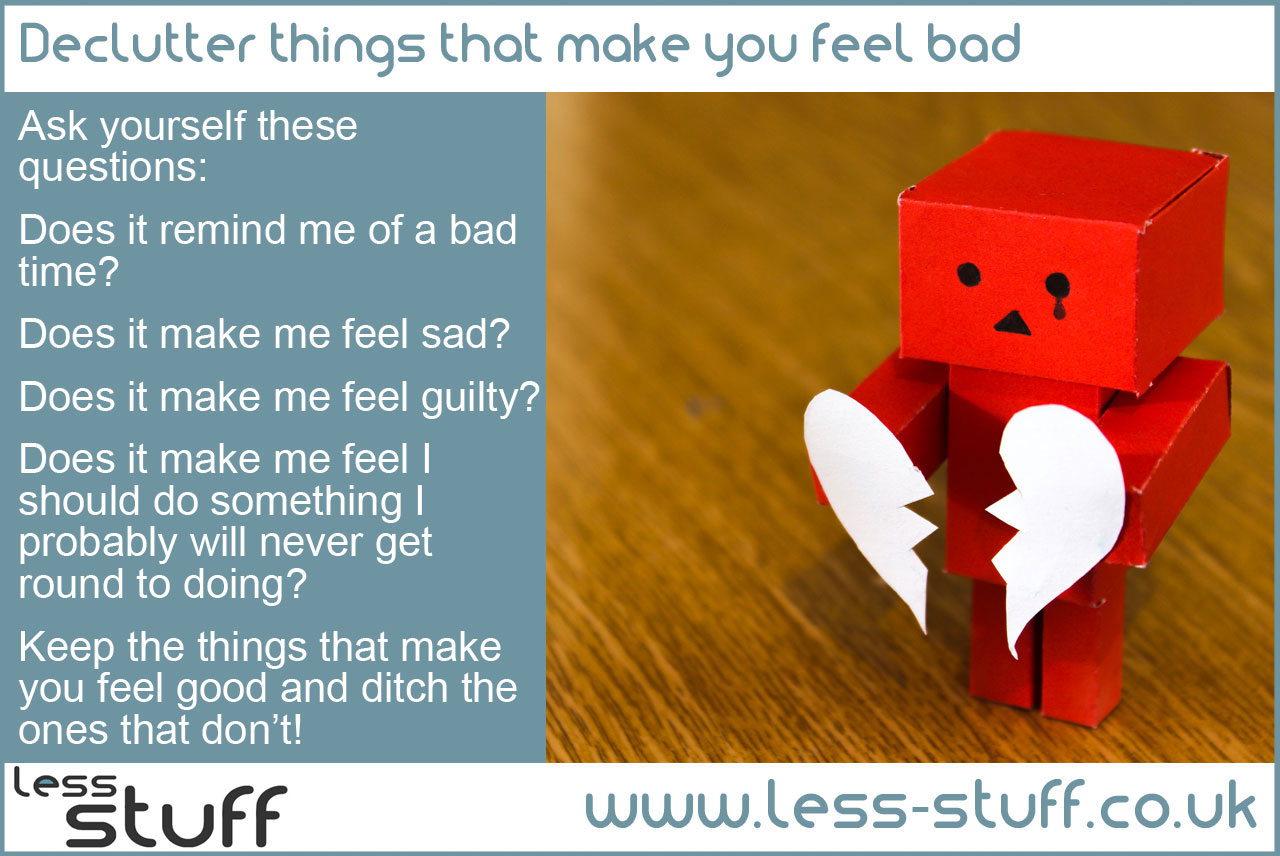 [amazon_link asins='B0719BNQLD,1785041029′ template='ProductCarousel' store='lessstuff08-21′ marketplace='UK' link_id='2487e34e-afeb-11e7-876a-65cf8af4215d']
Save