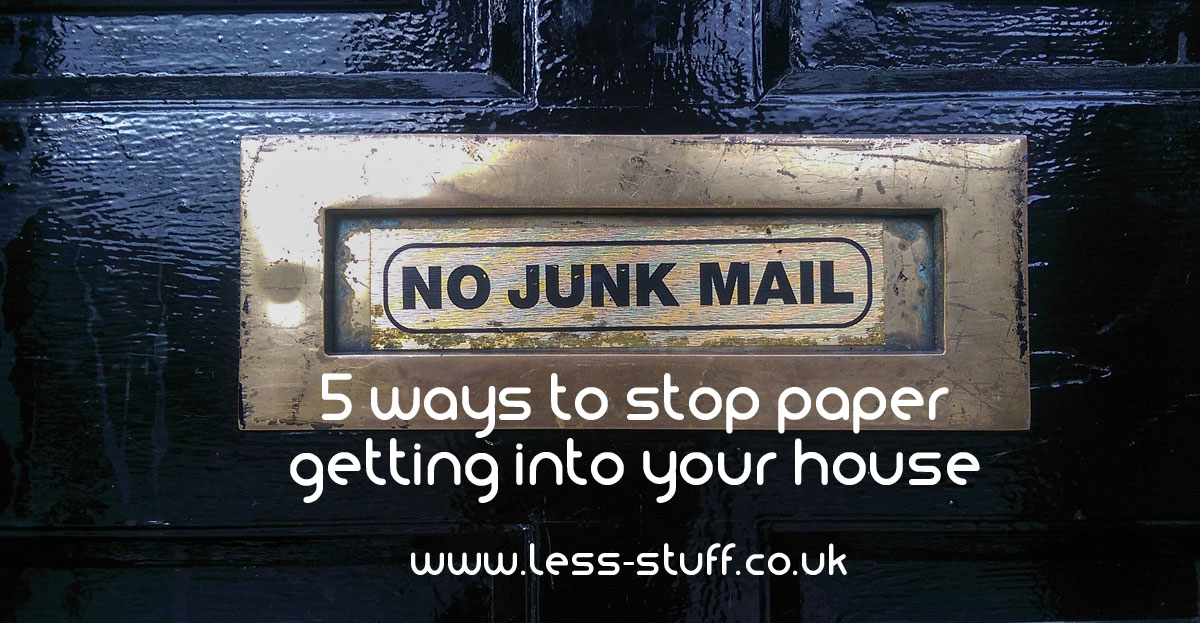 5 ways to stop waste paper getting into your house

1) Stop the junk mail.
Other than put a sign on your door there are a few strategies you can take to stop the junk mail at source.
If you are in the UK you can register with the Mail Preference Service. This is free and will remove your name and address from industry mailing lists. Royal Mail have a form you can fill in to stop the door to door junk mail your postman brings too.
The United States of America Government site has a list of ways to opt-out of junk mail.
In Australia you can opt out at the Association for Data-Driven Marketing and Advertising.
2) Register for online bills and statements.
You will be able to see them when you log into your account and print them if you really need to. You can print from the library if you don't have a printer at home. Some utility companies offer an incentive to people who use online billing.
3) Find manuals online
If you are storing instruction manuals see if you can get them online instead. It is often easier to search for specific problems online too. Search by the appliance number if you can find it.
4) Use an online scrapbook
Pinterest is a great free way to store ideas for craft projects and recipes. You can organise your own boards by topics and add images and links you find inspiring.
5) Use the cloud
Online storage sites such as Evernote are perfect for keeping important notes organised. You can add reminder dates too. There is a free version that suits most needs but the paid version has a better search function.
Sort out your paperwork
If you feel like paperwork has got the better of you my book 'From Piles to Files' will guide you through 5 days to declutter it.  In under a week you could have a filing system that is easy to run and that suits you perfectly. These tips form the chapter on control strategies for paperwork.