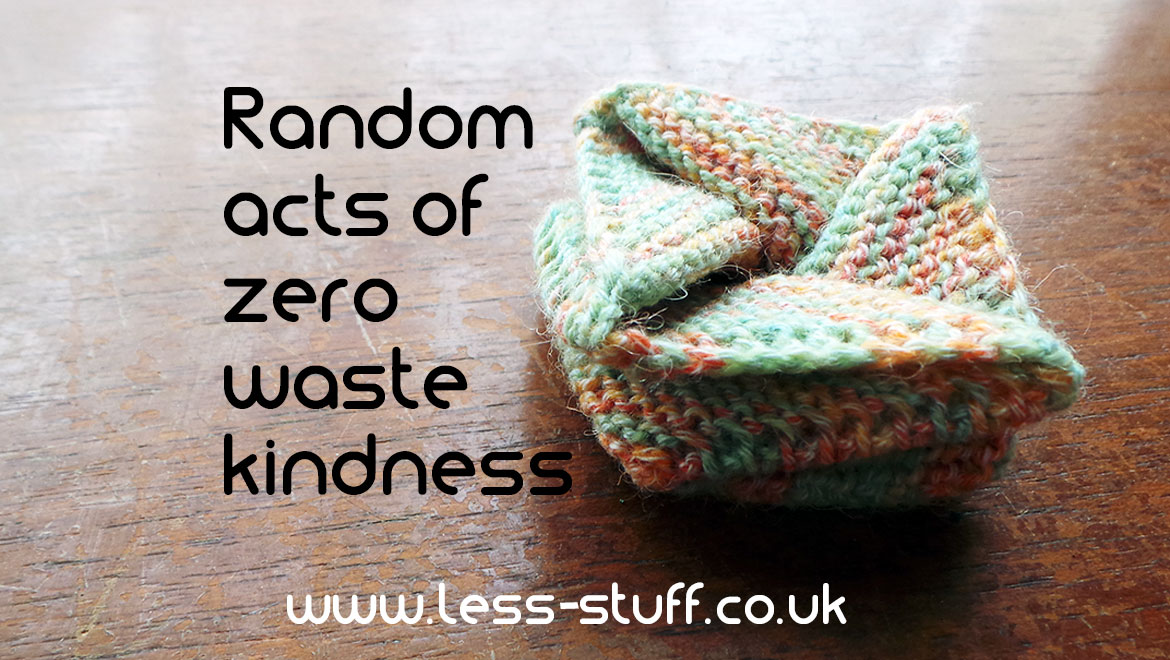 Random acts of zero waste kindness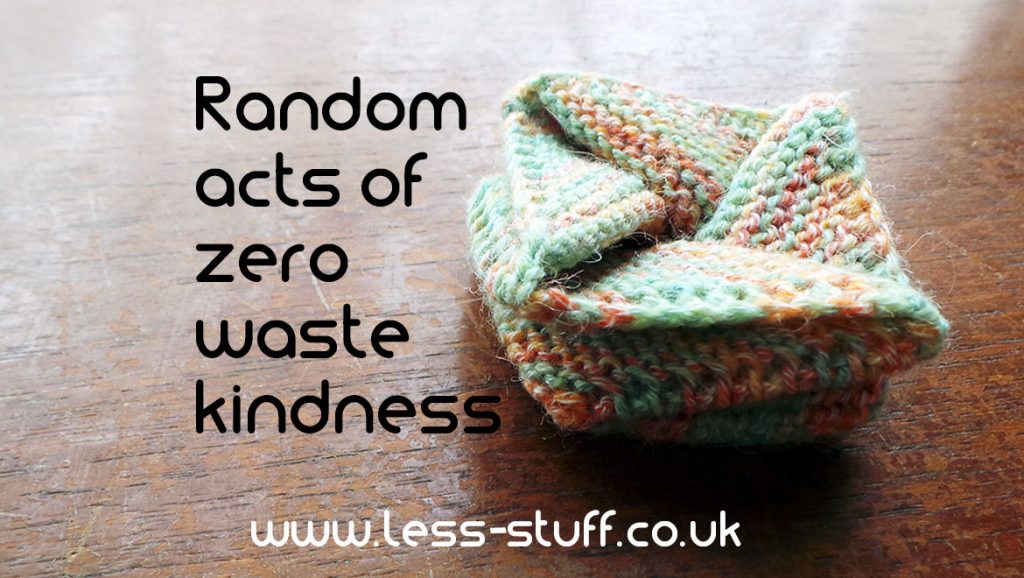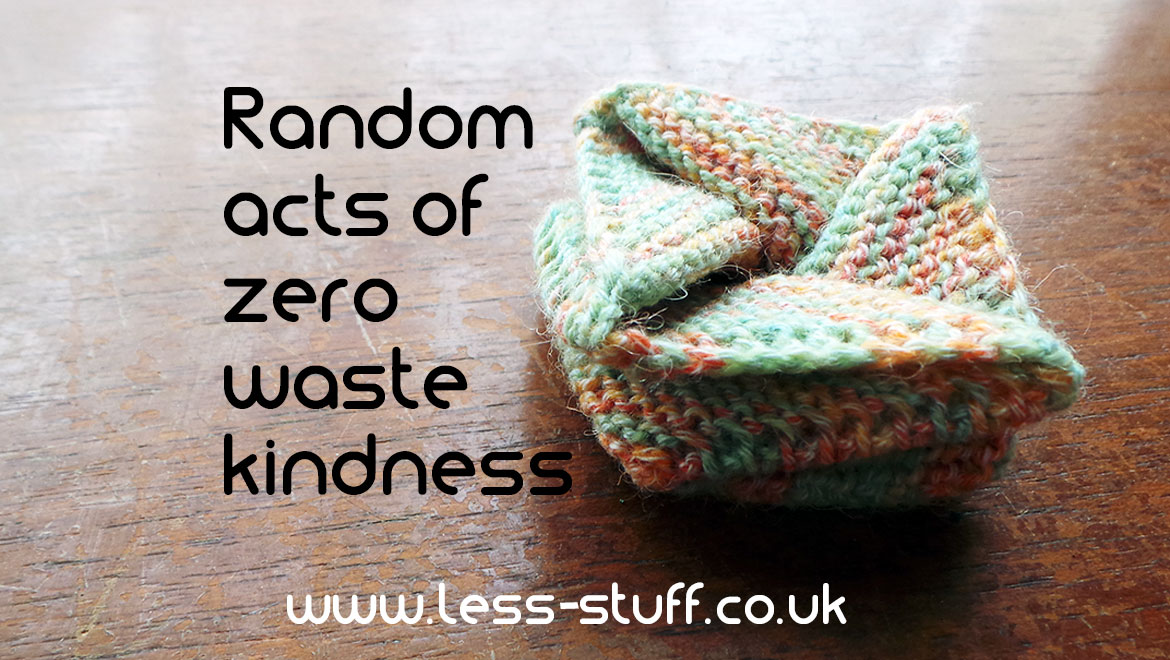 I've been feeling a bit flat recently. I'm working hard and getting nowhere, and the car is about to snuff it.  I was unrealistically hoping my most recent book would hit the best sellers list and I could give up the day job. Keeping control of clutter is easy enough but supporting hundreds of others to do it takes energy and is especially draining when it has to fit into free time. Anyway, enough of the sob story, we have enough apples in the garden to feed the whole street so we will not go hungry.
Little gestures can turn moods around
Yesterday, one little thing turned my flat mood around. I recently started a local Morsbag pod to make reusable bags out of waste fabric. Morsbags like you to label the bags so they can be counted and I bought a hundred labels to share with my pod. I ask people to pay 6p each for them if they like so that can go towards the next batch of labels.
I was going out for a long head clearing walk yesterday so I left the labels for someone under the recycling bins outside my house. When I got home there was this gorgeous little hand knitted parcel on my door mat. The lady who collected the labels said she didn't want to just put the coins through the door.
It is cleverly constructed and twists up to open and down to close. It measures about 2 inches across and is a brilliant way of using up scrap sock yarn. The pattern is Pinwheel purse by Frankie Brown
It is a great zero waste present because not only does it use up leftover yarn, it is actually really useful! I'm going to use it to keep my stitch markers in and to store my darning needle so I can find it more easily.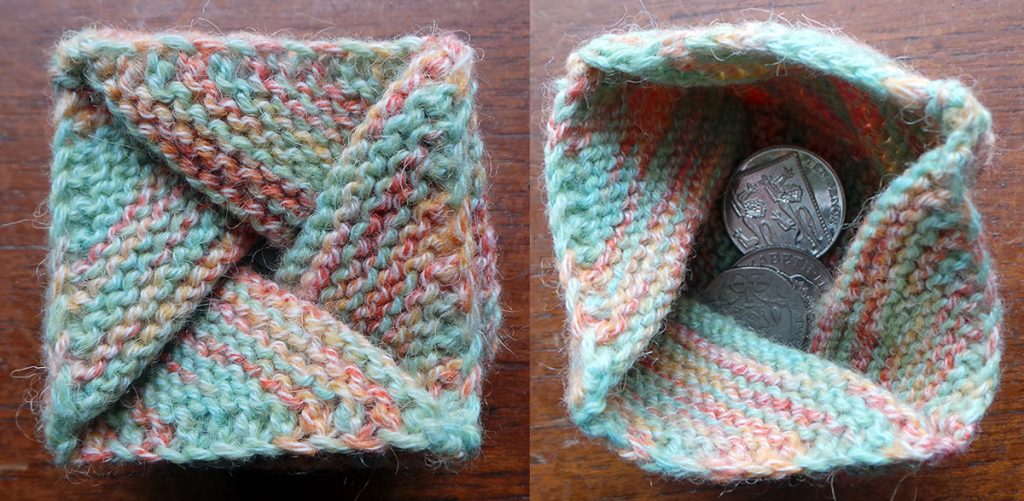 I'd done my best to shift my mood that day. I'd been for a long walk and had a picnic. I managed to practice some of what I have been learning on my advanced driving course but I was still feeling a little jittery. It took 2 square inches of knitted surprise to remind me that life is ok. Finding this little thing on my doormat made me feel appreciated.  It also made me think about how I can pass that feeling onto others.
Zero Waste Random Acts of Kindness
So, here is a list of zero waste ideas for random acts of kindness. I'll add to it as more ideas come in through Twitter and Facebook. (Comments are closed because it takes too much time to moderate the spam, despite filters)
smile at someone
give someone a compliment
put a neighbours bin back for them
give a book to a beggar (this has always gone down well when I have done it)
send your old bras to Smalls for All
hold open a door for someone
donate something to a charity shop
greet strangers you see regularly – I find that if you relentlessly say 'good morning' to even the grumpiest of people, eventually they crack and say 'good morning' back.
pick up and recycle some litter
tell someone they are doing a brilliant job

try and learn the words for hello, goodbye, please and thank you in the language of any foreign country you visit

(thank you Kazzy for this one)