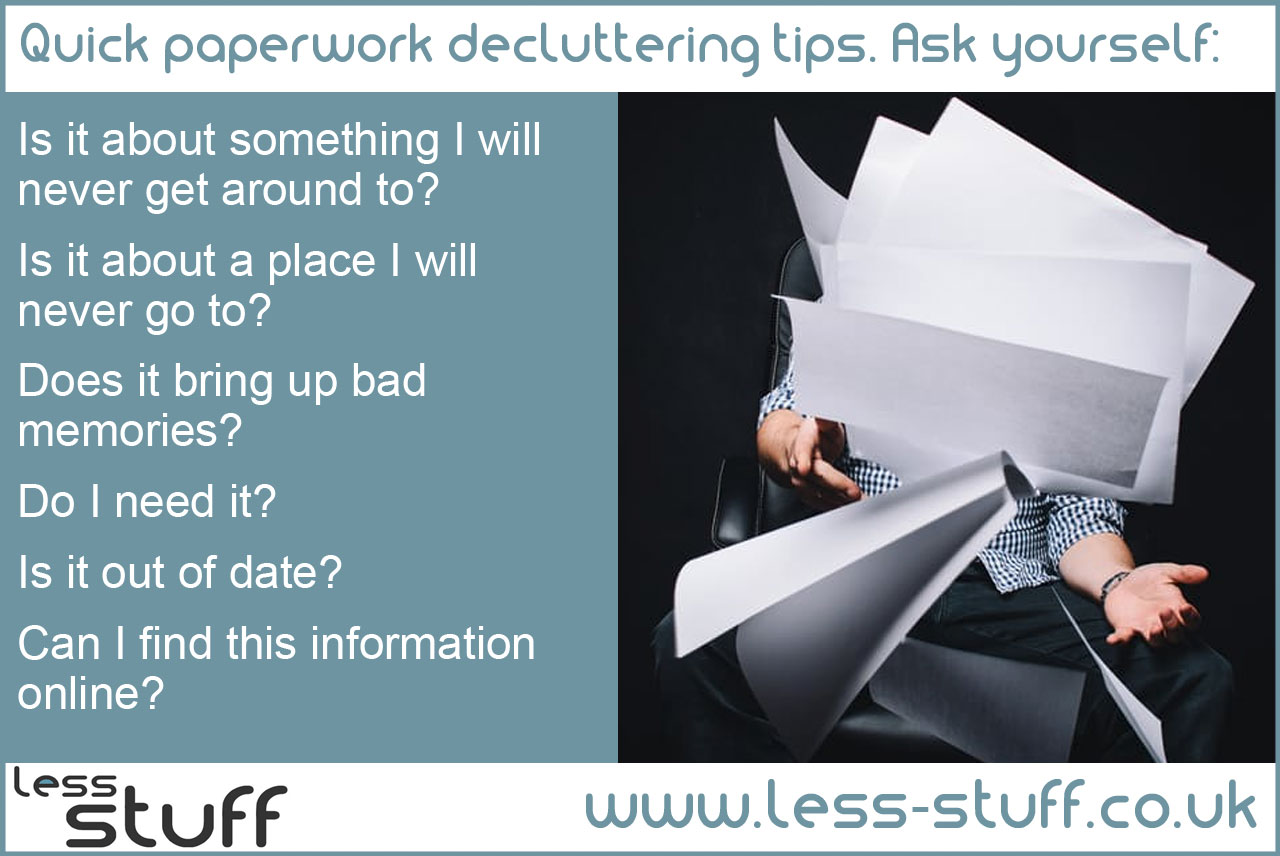 Start dealing with your paperwork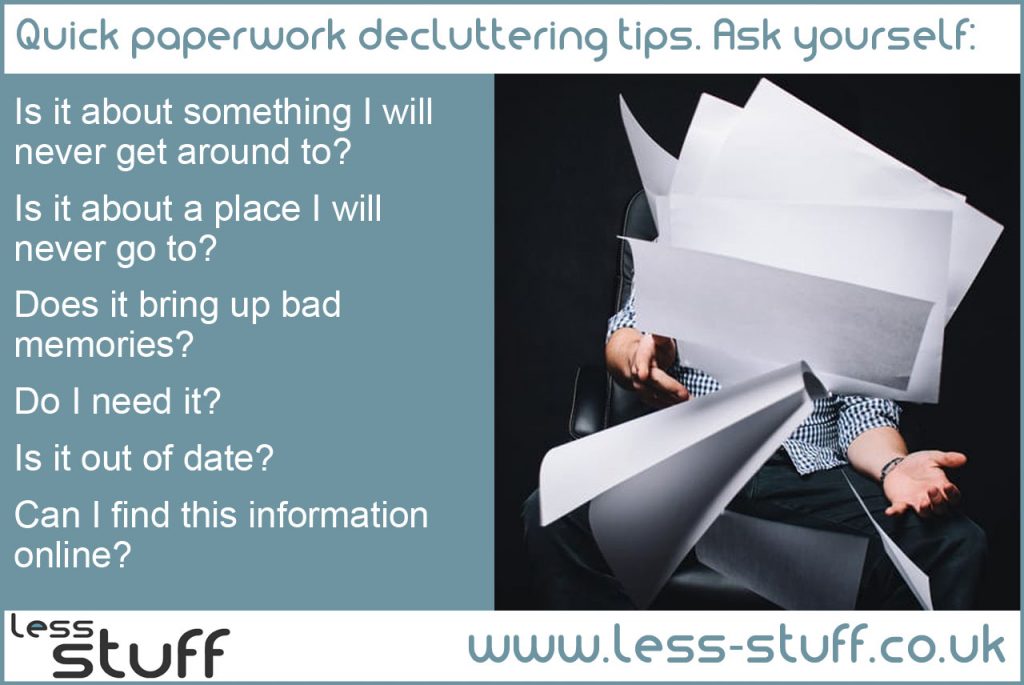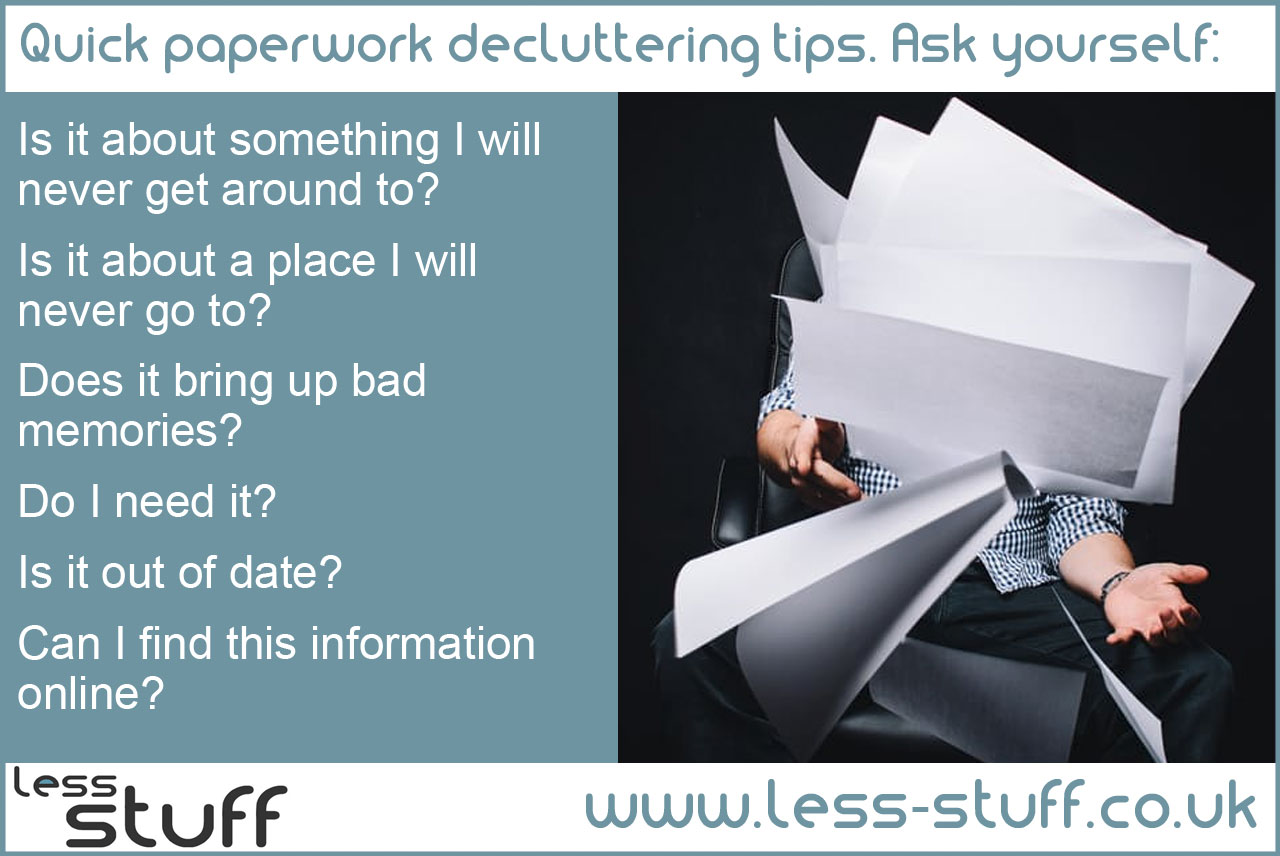 If you work from home, are a member of any groups, subscribe to magazines or even just get the occasional Saturday paper it is really easy to collect a huge amount of paperwork in a very short time.
Today's prompt will give you a strategy to start sorting it out. It is not like the normal prompts because you will need to keep this as an ongoing prompt until your paperwork is under control.
Paperwork is clutter area which can very quickly become totally overwhelming. Becoming overwhelmed is not the object of the game with less-stuff!
Be aware that you need to take this slowly.
If you want to do more than 5 things I suggest you do it in 5 minute batches.
Spend no more than 5 minutes at a time on a pile of papers then have a break.
Because we will not be tipping out boxes of letters and magazines, you will easily be able to leave the job and come back to it later.
You will need 3 boxes to sort into, or a place to make 3 new piles. This is basic sorting, there is no filing involved here, nothing needs to be put away right now.
All you need to do is take the first 5 bits of paper. They will fit into one of these categories:
1) paperwork that needs Filing
2) paperwork that needs Binning or Shredding
3) paperwork to keep for Reference
You might find it useful to have a 4th pile for things that need responding to NOW.
1) Paperwork that needs Filing is easy to spot, it will be bills, instruction manuals (unless you can easily find them online), letters from schools, contact lens prescriptions…..
2) Paperwork that needs Binning or Shredding can be slightly more difficult to spot. I'm self employed so I keep records for 7 years. I love getting rid of a years records when those 7 years are up! You probably don't need to keep information from the phone company you used 20 years ago, you definately don't need junk mail.
3) Paperwork to keep for Reference is the hardest because it is easy to keep so much that you will not be able to find it when you need it.
Ask yourself:
Is it about something I will never get around to?
Is it about a place I will never go to?
Does it bring up bad memories?
Do I need it?
Is it out of date?
Can I find this information online?
Will I ever need this bit of paper?
If it really is something that you need to keep, then it can go in the reference pile.
What will happen with this approach is that you will eventually have 3 sorted piles of paperwork. The first pile can be filed when you have time for it, at least you know that you will be able to find the car insurance documents or the most recent gas bill in that pile. The second pile can be disposed of (I have open fires so I burn mine, it's lots of fun!) and the third pile can be stored.
There is a printable checklist for the paperwork prompt here or you can click on the image instead if you prefer.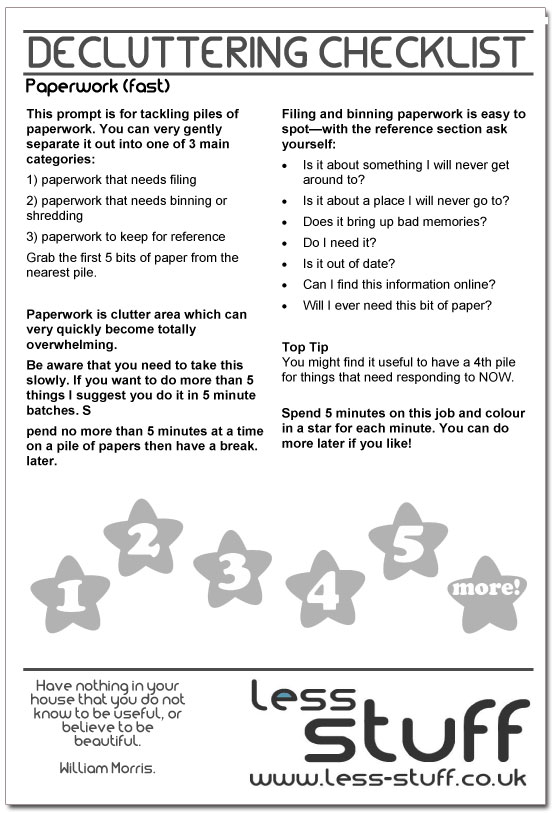 If you want to sort out your paperwork properly and learn how to build a filing system that works for you there is a less-stuff book available. "From Piles to Files, easy ways to declutter your paperwork in 5 days" is at the Amazon Kindle Bookstore and on Smashwords.
[amazon_link asins='B06XJ3XPM7′ template='ProductAd' store='lessstuff08-21′ marketplace='UK' link_id='586fe91b-067c-11e7-92b6-4d7797077691′]