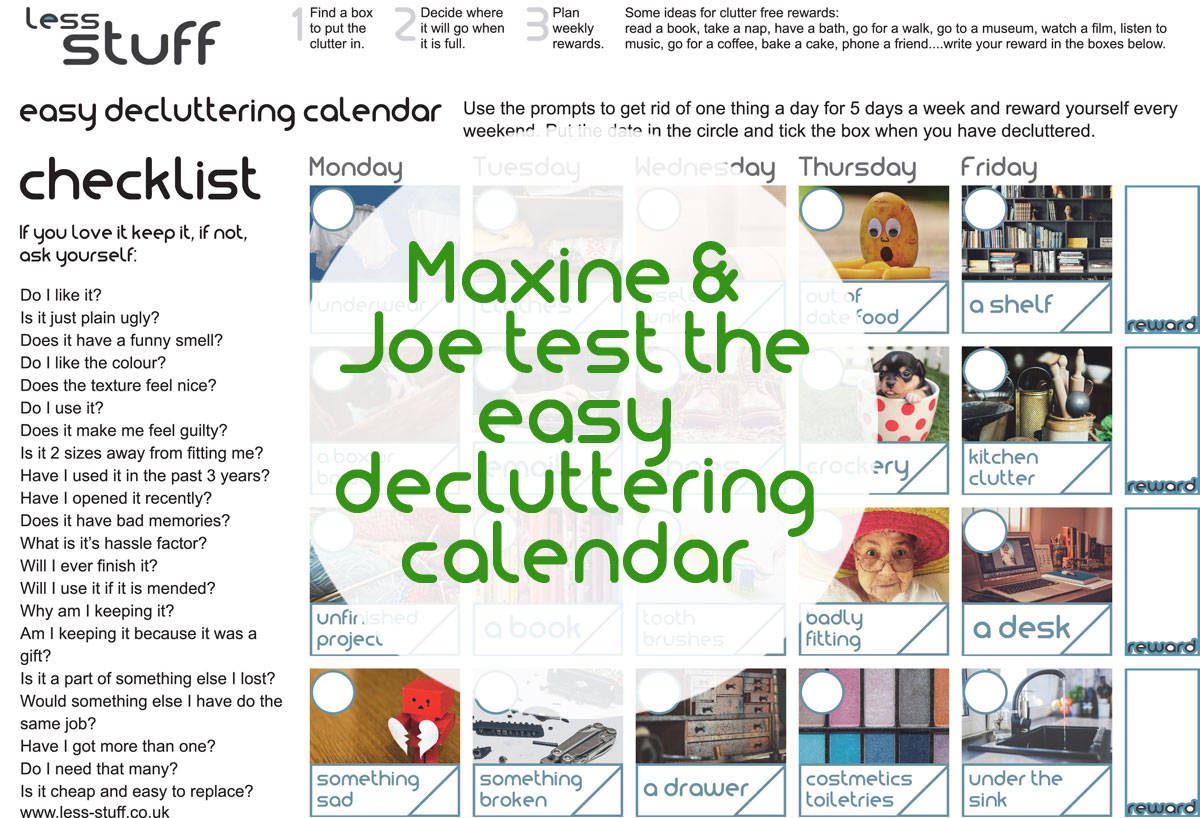 Maxine and Joe test the easy decluttering calendar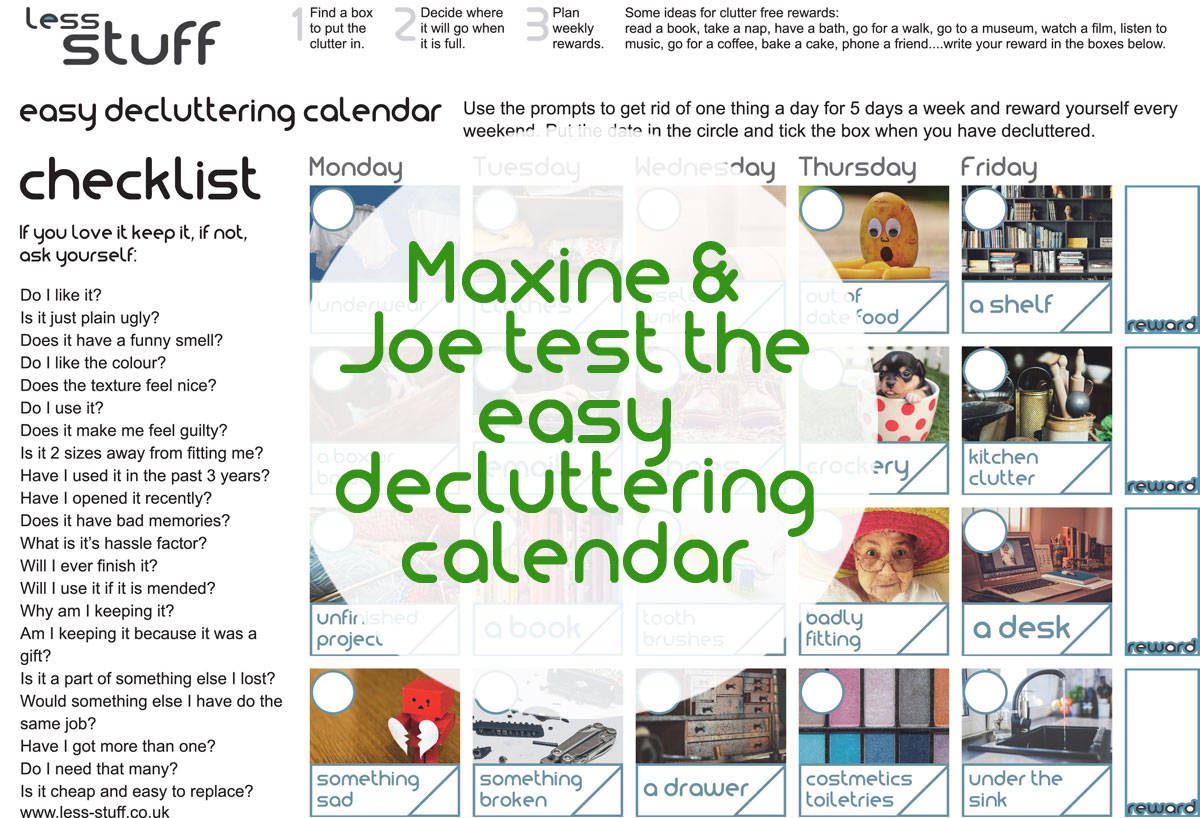 Maxine von Eye and Joe Papineschi are interesting folk from Brussels. They are practicing reverse hoarding, which means using up all their store cupboard ingredients and their Instagram feed is full of delicious looking and inspirational pictures. I started some elderflower champagne off at the same time as them so I'm using their feed as a reminder for when to bottle it!
Gently does it
Like a lot of us, they are also trying to get rid of the useless stuff and when they saw me talk on the Sustainablish panel about living with less they were inspired to try a bit of gentle decluttering.
Maxine said:
"We've been on a decluttering journey for a few years now – sorting out a mountain of stuff Joe had in storage, plus all my stuff, moving from flat to flat in Bristol, and then to Brussels – we've been taking every opportunity to get rid of stuff that we could, and be more organised and live more sustainably. And we're pretty good at not accumulating more stuff, which is really key to being more sustainable – getting rid of stuff only to replace it again is obviously no good.
⠀⠀⠀⠀⠀⠀⠀⠀⠀
Nonetheless, like most people, we still have a lot of stuff, and a lot of clutter, around our flat and in the garage. So we decided we want to try this calendar to stimulate some decluttering! Although I personally like the idea of minimalism, I know it's not for everyone, so I really like the @less_stuff_less_waste tagline, which is "decluttering for non minimalists"."
Declutter one thing a day
I'm famously not a minimalist, but I do think that it is easy to let our stuff get out of control. The free calendar gives you one location or topic to declutter one thing from every day, with space at the weekend to plan rewards. I'm really looking forward to seeing what Maxine and Joe come up with and we can all follow their journey on their Instagram account which is @maxiandjoe1.
If you want to play this easy game along with them you can get your copy of the free download by signing up to my mailing list. It is the one way that bloggers like me with zero marketing budgets can get you to notice us. And you can unsubscribe whenever you like.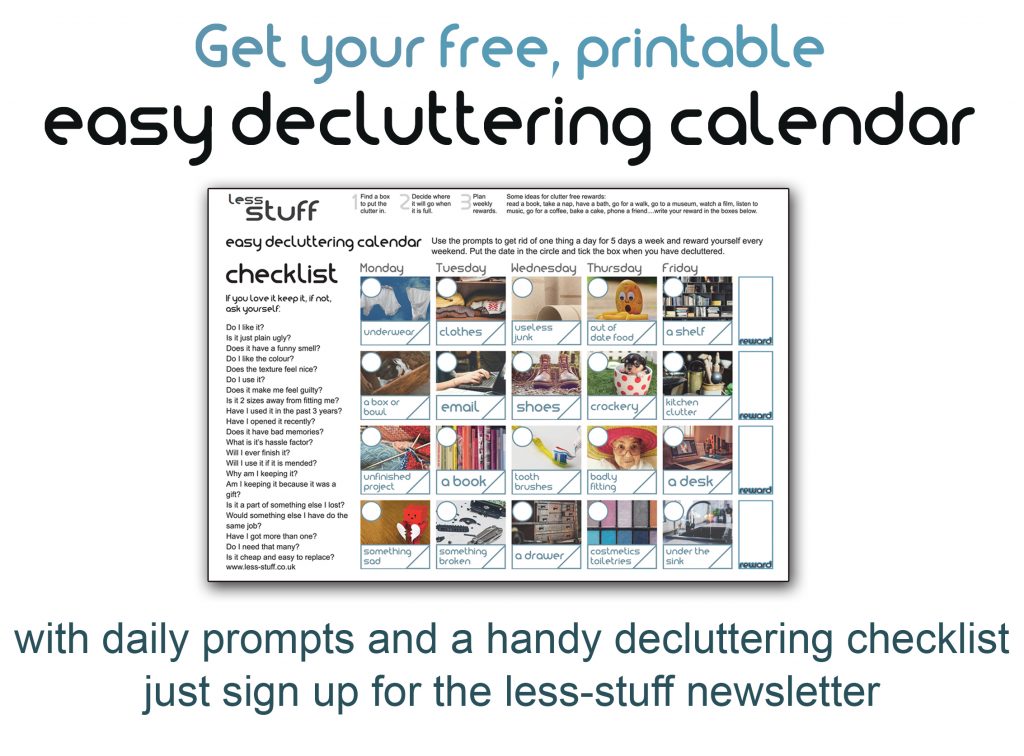 What is Sustainableish?
Jen Gale from www.asustainablelife.co.uk put on an amazing week of talks recently. You can see me rant about Marie bloody Kondo here https://www.crowdcast.io/e/learning-to-live-with and I'm joined by Tanya who is a proper minimalist  from www.theminimalistlifecoach.co.uk and Steph from www.strivingforsimple.co.uk who is somewhere in the middle of our spectrum of stuff loving. It turns out to be a really good mix and we agreed on more than I expected.