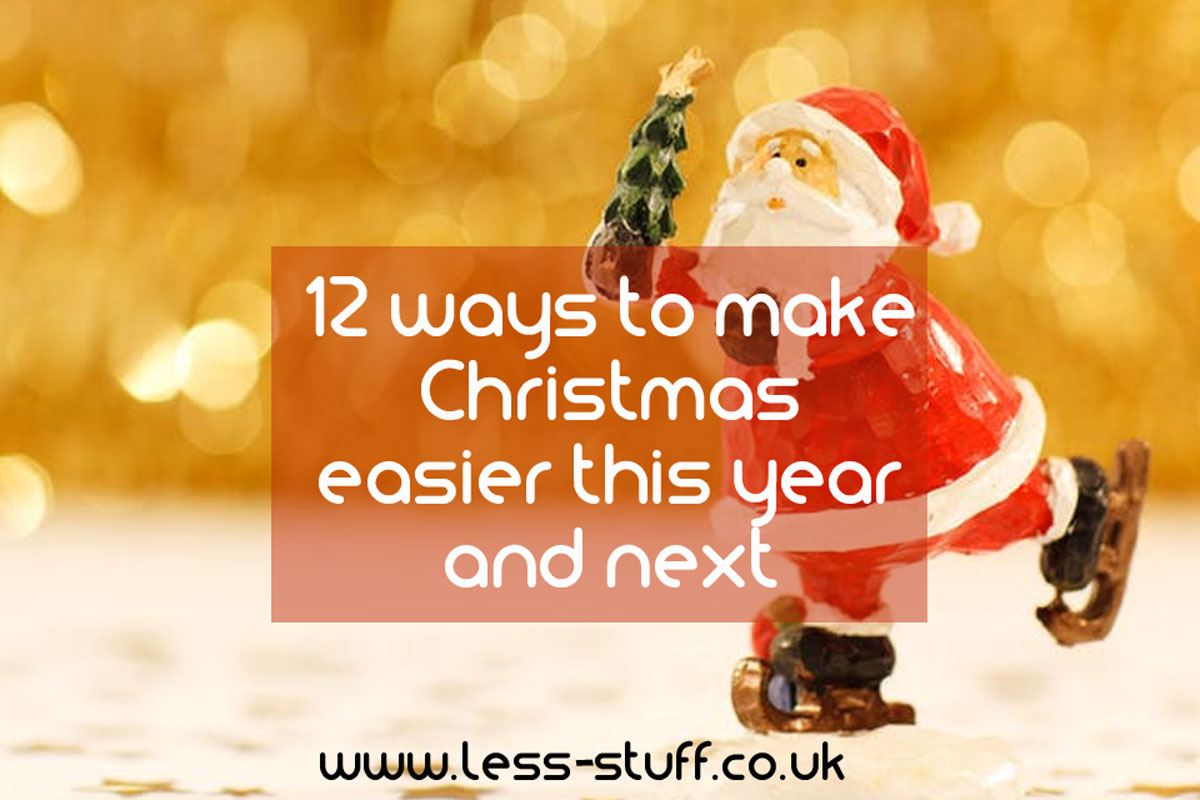 Making Christmas easier this year and next
Christmas, which is meant to be a time of giving and gratitude can easily end up being really stressful instead. Lovely Dawn from the less-stuff Facebook group came up with the idea of a list of strategies to help cope with this Christmas, while preparing for the next. This post is written with help from Dawn, Anna, Toets, Su, Esther, Bróna and Linda.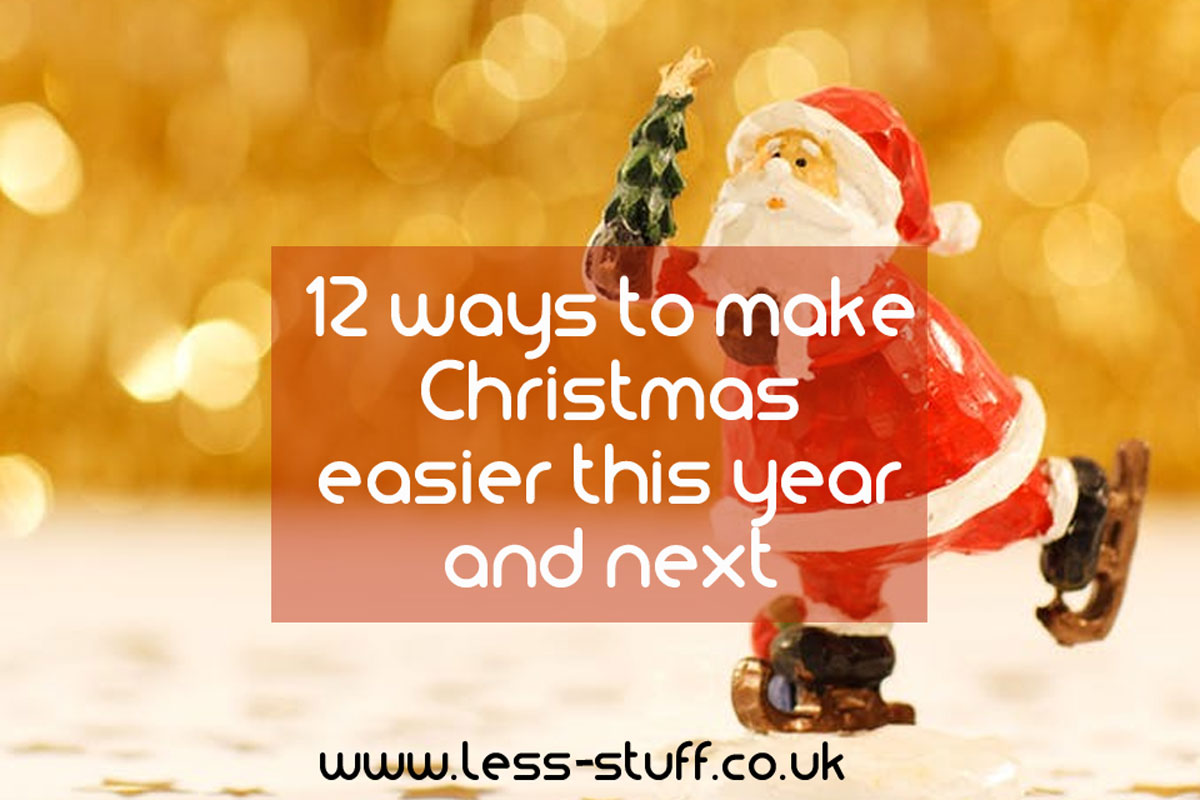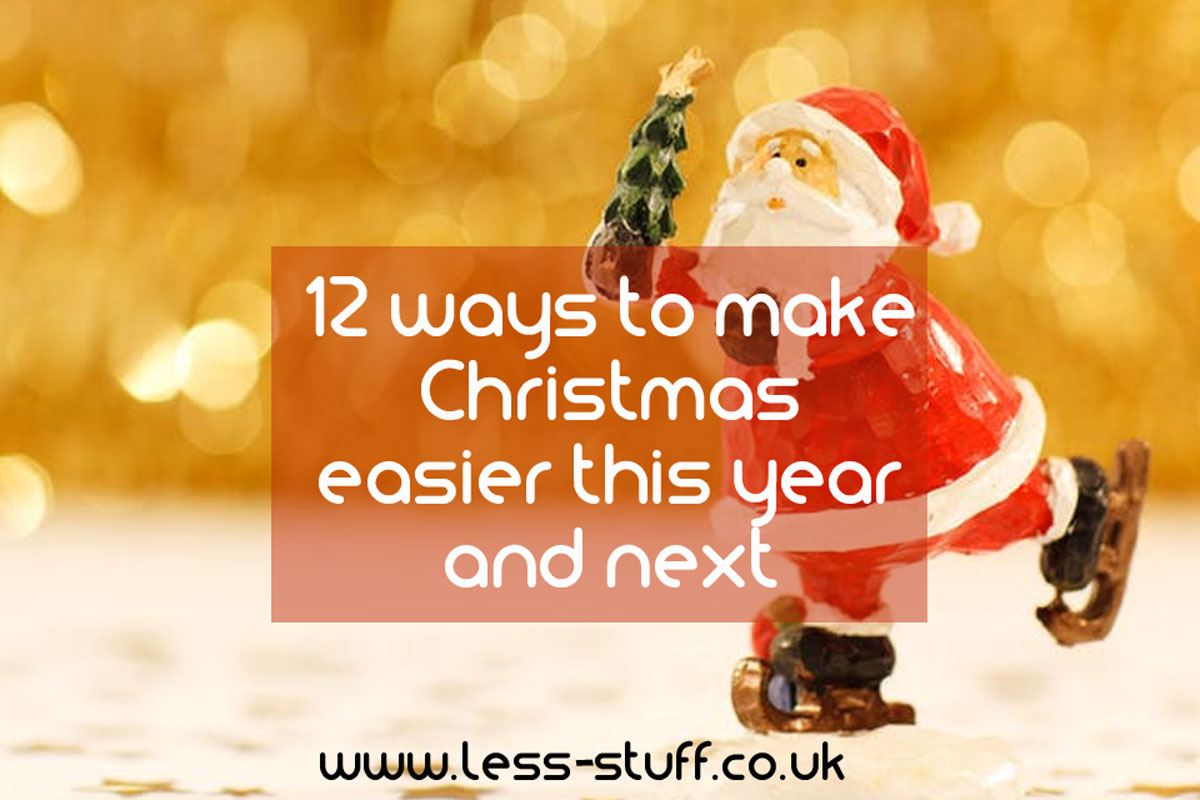 You will need:
Cardboard boxes to pack into
Paper and pencil
Sellotape
Strategies to help with this Christmas
1) Keep the labels with the gifts
This little trick saves a lot of hassle in the future when it comes to thanking people for gifts. It is also essential to know who a present came from in case you give it back to the giver by mistake. You might need to use some of the sellotape to stick the labels onto the present but as soon as they are opened, make sure the label stays with them.
2) Start a re-gifting box
If you don't love it and it is not a time sensitive (edible) gift then Christmas day is a brilliant time to start a re-gifting box. You could even be one of those organised people who finds gifts for people through the year instead of last minute. The things that go into it can be presents you don't want and nice items you declutter through the year They may not make you happy but someone else could love them.
3) Keep a list of present ideas for next year
Depending on where you keep your re-gifting box this could live in the box, or if you are a notebook sort of person you can keep it handier.
4) Pack up the packaging
Save the best of the paper and any gift bags to use next year. You don't need to keep it all, but bigger presents are nearly always wrapped in paper big enough to wrap a smaller present. It takes seconds to fold it up and put it in a box for next year.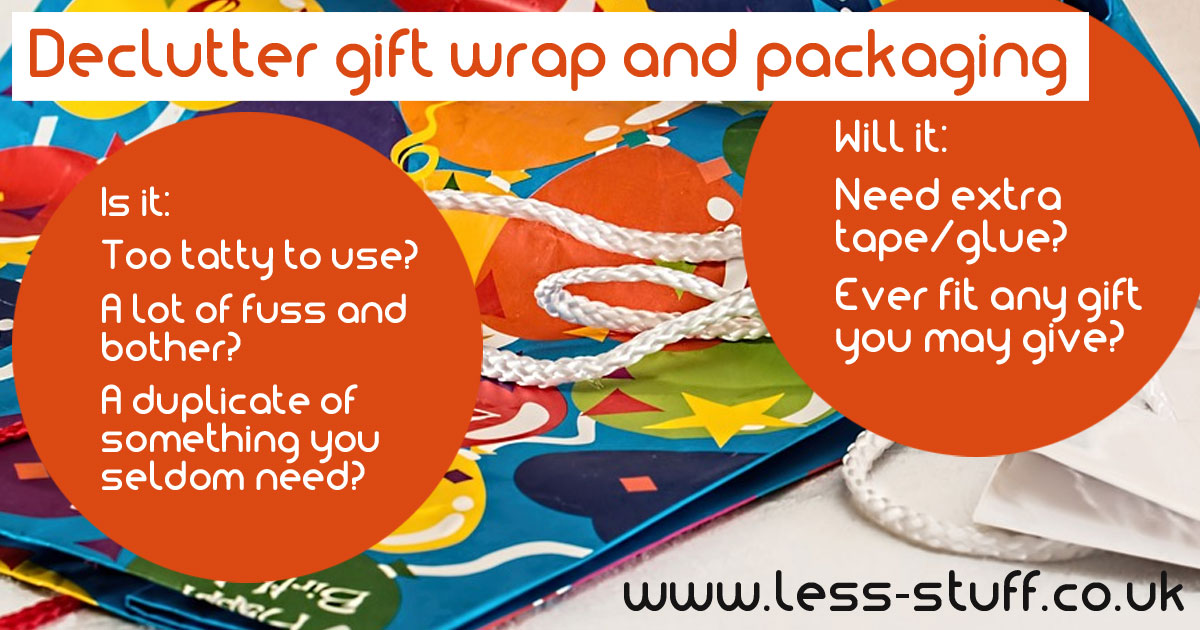 5) Have a donation box ready
At all times, and especially at Christmas, it is very helpful to have a decluttering box on the go. Add anything for the charity shop as you go through the year.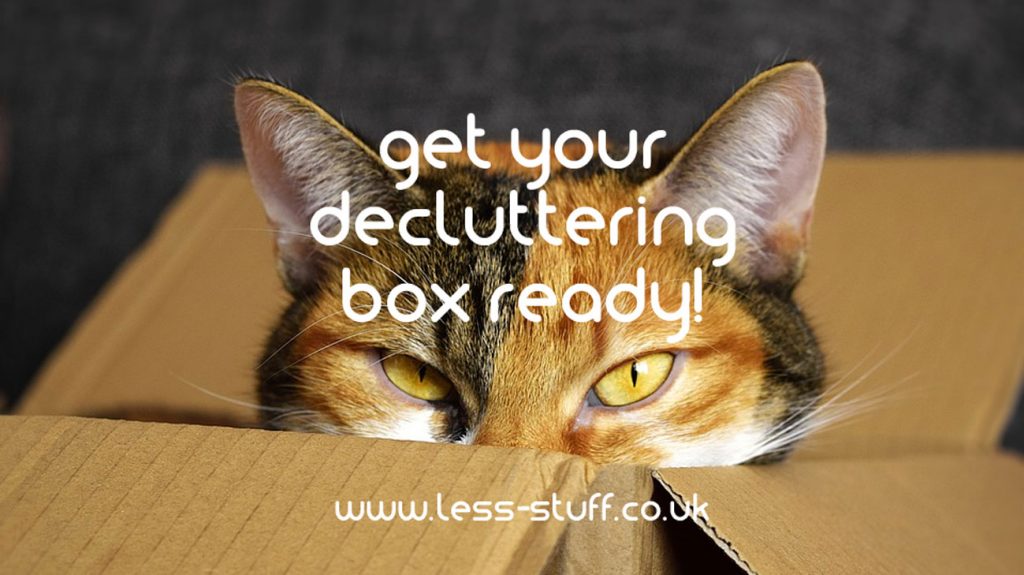 6) Keep the inside of cards
The inside of Christmas cards contain vital information – and they can form the list of people to give cards to next year. Separate them from the fronts and put them in the packaging box ready for next year.
7) Make labels with the front of cards
A pair of scissors is all you need to make labels for next years presents from this years cards. You don't need to get fancy, squares and rectangles are perfectly ok. Draw round a glass for circles or use a fancy pair of scissors to get an ornamental edge.
8) Check recycling and rubbish collection dates
These seem to be mostly online now so you might need to do some detective work. You are more than likely to have extra rubbish and recycling over the holiday so it is extra important not to miss a collection.
9) Prune the decorations
No matter how you undecorate your house, in one big swoop or slowly in batches, check and evaluate what you want to bother to store. If a bauble is broken but reminds you of a lovely family Christmas can you fix it?  As you pack them away it will help you next year if you mark the box with what is inside.
10) Check use by dates
How is your fridge? I have half of Lidl in mine and it is so stuffed I can't see what is at the back. Writing a quick list of what will go off first will save you money and time. You can also use these stickers on things that need eating first if you have any space in the fridge!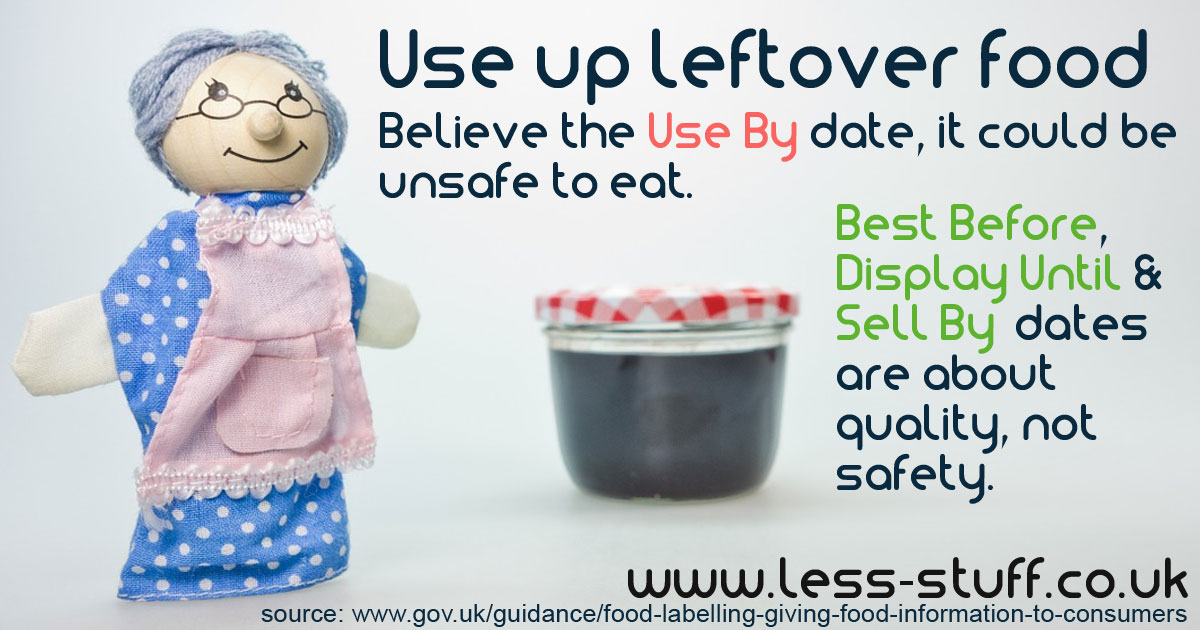 11) Menu plan for leftovers
I don't think I've had a Christmas without cooking too much food. Menu planning does not need to be detailed or difficult. A note reminding yourself to use up the roast potatoes will provide the nudge you need to save the food from the bin or compost. We have a brilliant A-Z of leftovers on less-stuff that will give you some ideas and the Love Food Hate Waste site has more specific Christmassy leftover ideas.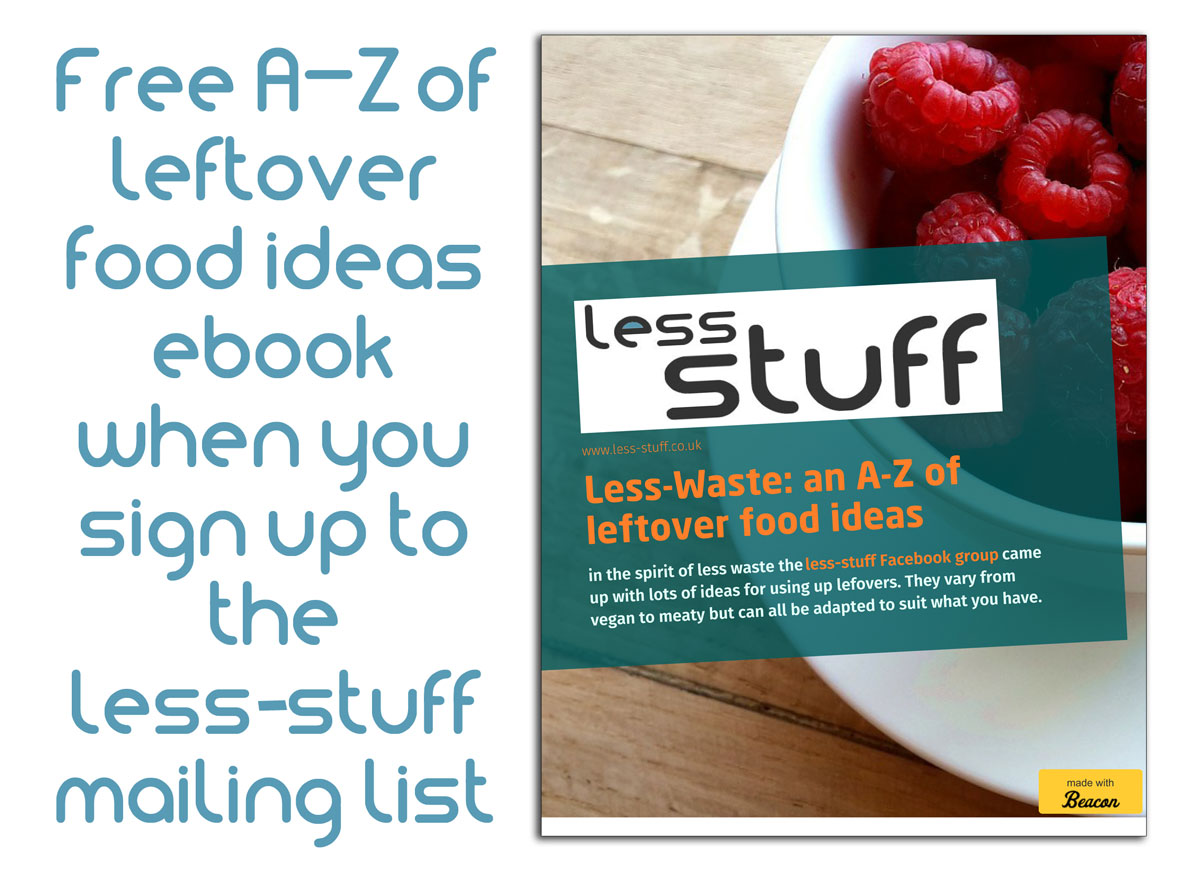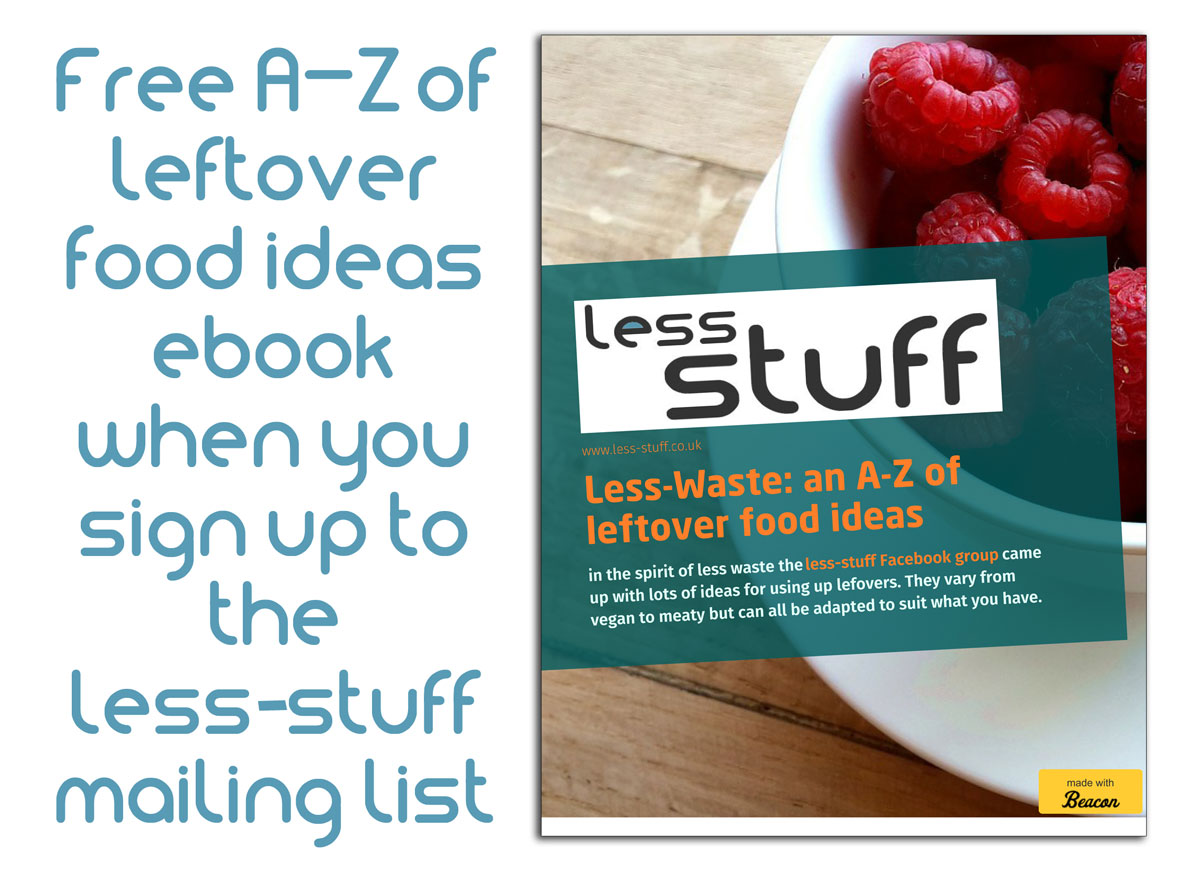 12) Have some time off
Half an hour in a bubble bath is my way of recharging, getting out of the house for a walk (on my own) usually grounds me and makes me feel less anxious. Remember that Christmas is a time of giving but this includes yourself. I know it is sometimes not easy to grab any space from family commitments but please try to give yourself something too. There is a list of non cluttery things to do on an uninspiring winters day here that can involve the whole family but rewards are not just for children.