How to start decluttering painlessly with a free less-stuff calendar
In a nutshell – if you don't know where to start but you do want to declutter the less-stuff calendar makes life easier.
Do you..
Feel overwhelmed by the amount of stuff you have?
Buy new things because you cannot find the ones you have?
Worry that once you start decluttering it will make more mess than when you started?
Want to start decluttering but don't know where to start?
This works
If you are faced with mountains of belongings and need to gain control of them, starting small might seem pointless but it's not.  If you get rid of just one thing a day for 5 days a week that will be 25 things out of you home in a month, it really will make a difference.
Declutter just one thing a day for 5 days a week and
things will leave your home painlessly. That is a good start!
The less-stuff decluttering calendar is a painless way to start to get rid of things you don't need in your life any more.
You will get:
A checklist of questions to ask yourself when you are decluttering.
A calendar that you can start at any time and print off as many times as you like.
A list of ideas for rewarding yourself when you declutter 5 things in a week.
A tiny decluttering challenge every weekday for 4 weeks.
The catch
I want your email address to add to my mailing list. I will never sell your details and I do not email often. Mailing lists are important to people like me because I do not have a huge marketing budget (in honesty I don't have a budget ). If you are on my mailing list I can assume you will be interested in what else I have to offer and I am writing a book I would like someone to buy in the future.
Benefits of being on the mailing list
You will be the first to know about new things happening at less-stuff.
There will be codes to get free or discounted books that walk you through the decluttering process.
You will get occasional reminders and tips about ways to declutter gently without getting stressed out about it.
You will also get a download of the A-Z of Leftover Food Ideas which will help you save money and waste less food.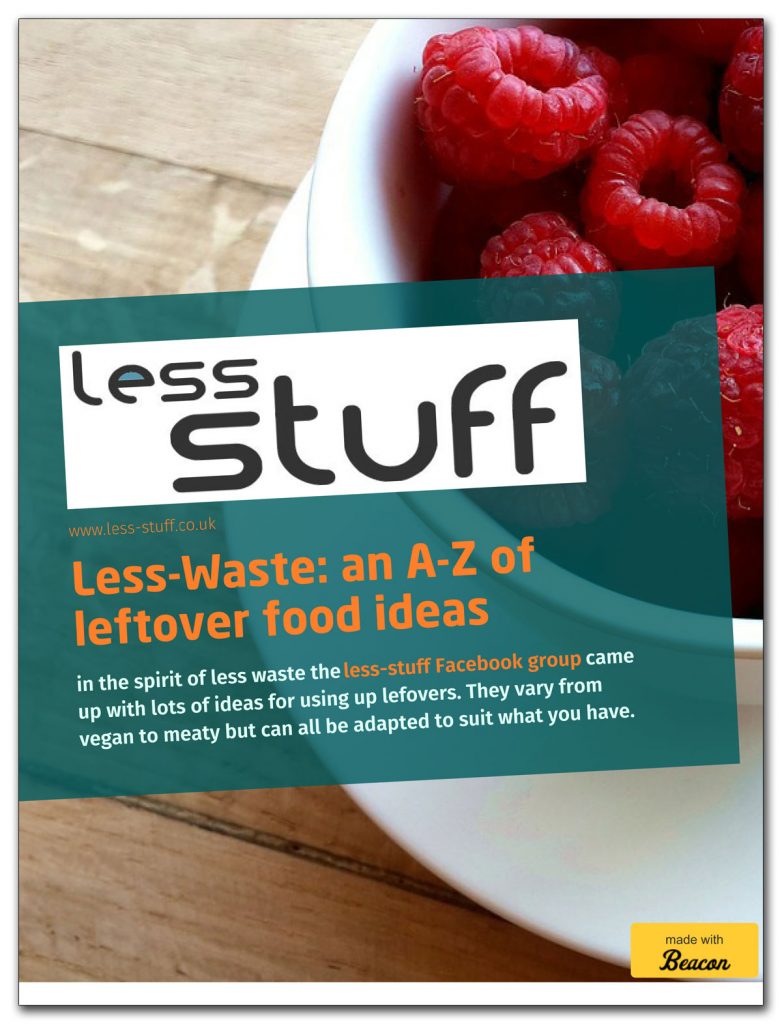 You can unsubscribe easily at any time.
[mc4wp_form id="3553″]