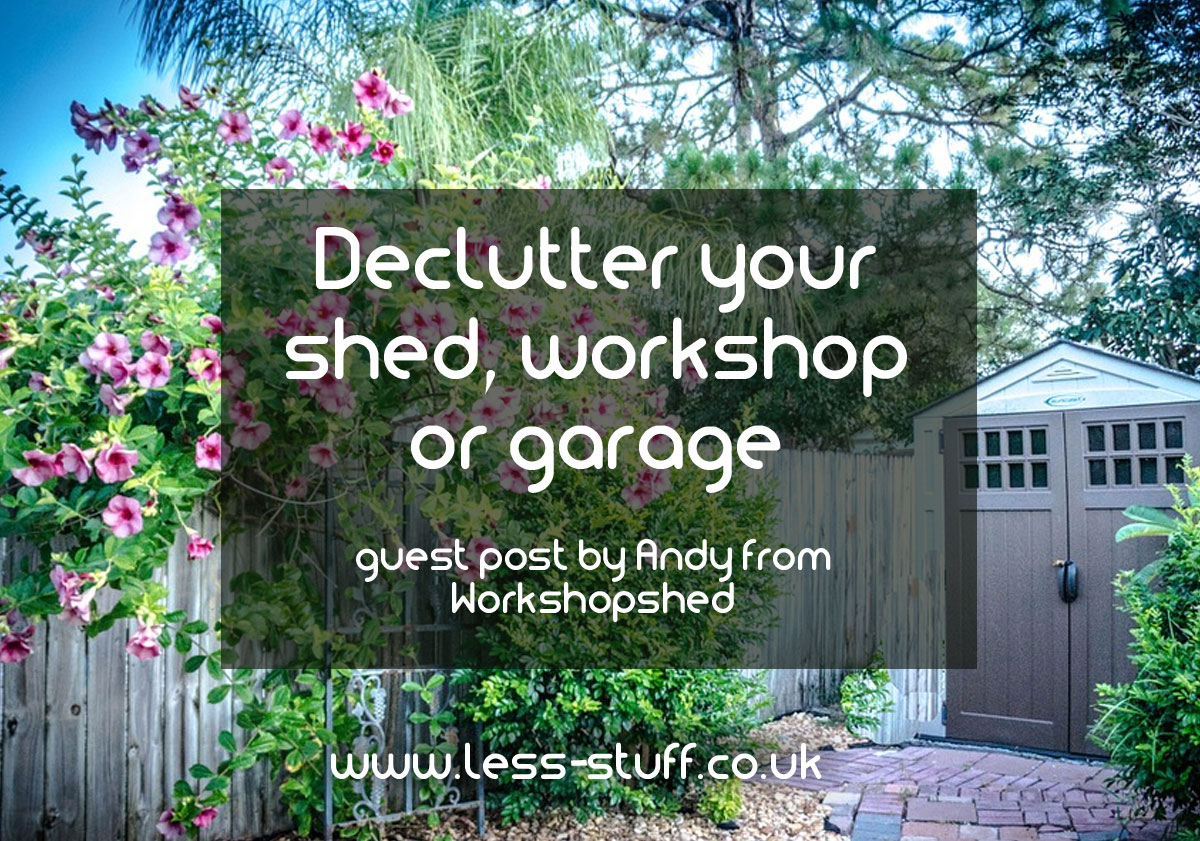 Declutter your shed, workshop or garage – Guest post from Andy of Workshopshed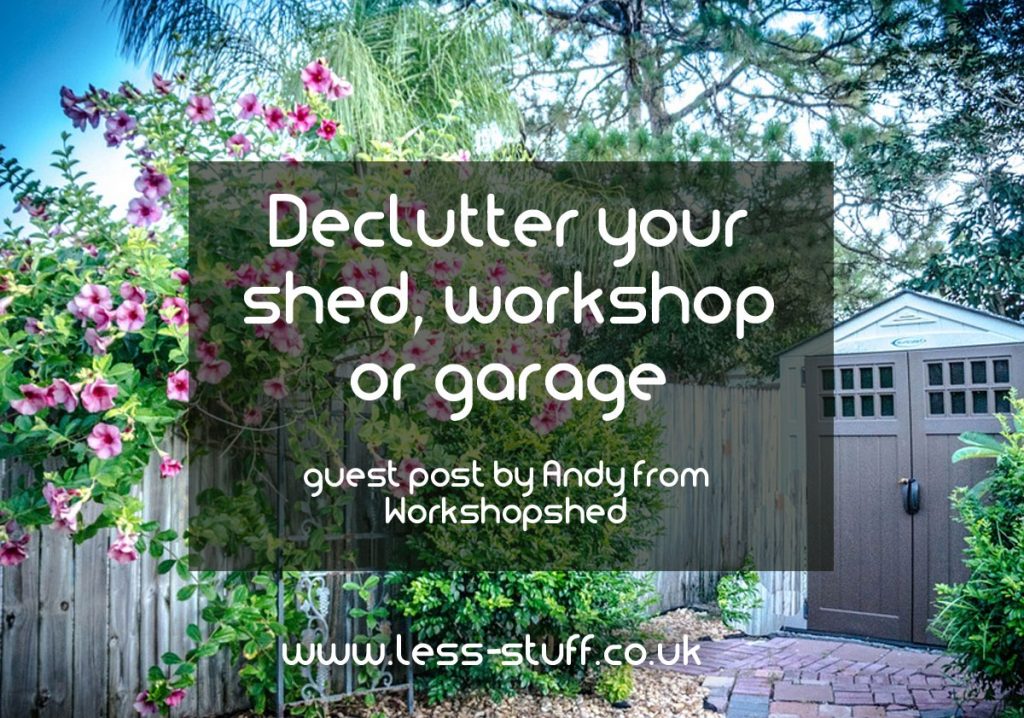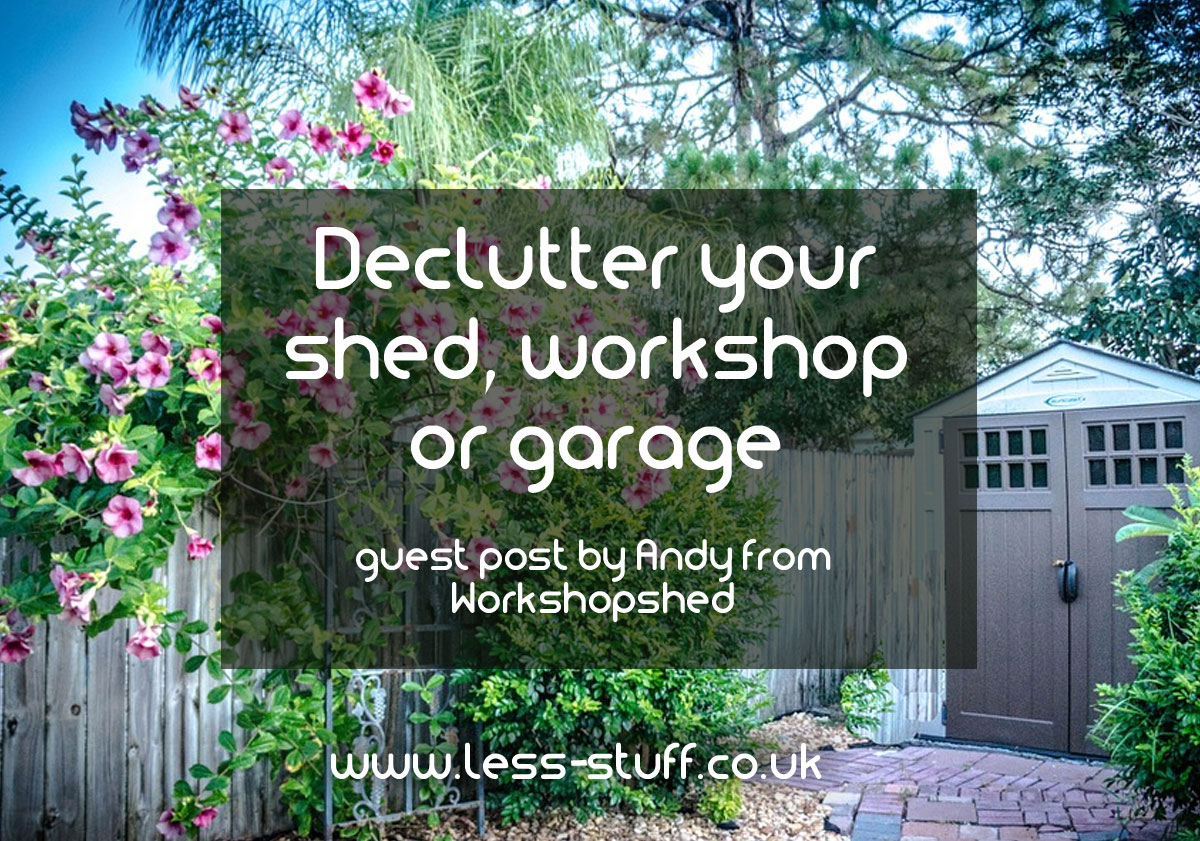 This guest post is by Andy from Workshopshed
(I don't have space for a shed so it is great to have an expert talk about how he keeps his in order. Lisa)
A workshop or garage often doubles as an overflow storage room. This can be demoralising as you end up spending more time looking for things than working. A bit of decluttering can improve your workshop substantially.
Ask yourself
What are your essential tools and materials?
Which things are only used occasionally?
Is the design of your storage causing an obstruction?
Are there seasonal items?
Are any materials passed their best?
Essentials
Think about the tools and materials that you use the most often. Are these ready to hand? A peg board can useful to store these kinds of tools, you can then quickly see where the tools lives.
Important but infrequent
If you have an item that is important but not used very often then ensure it is properly stored away, protected from dust and the elements. Before packing these away ensure they are clean and dry and wrap up in suitable protection to ensure they are in prime condition when you need them. For metal tools a coat of oil or wax can be used. Silica gel sachets can be added for moisture sensitive items and lavender for items that might be attacked by moths.
Seasonal items
Lawn mowers, bikes, parasols etc can be packed at the back over winter and brought back out in the spring. This bi-annual switch over can be a good time to get rid of any items you are not really using.
Structured storage
Is the way you are storing things making the problem worse? For example if you have three cases that are stacked on top of each other then you have to remove two to get to the bottom. Three cases in a row would allow each to be reached. Many smaller drawers, boxes or shelves will save you rummaging in the bottom of a box looking for that critical item. It can also reduce the chance that items are damaged.
Shelf life
Many items have a shelf life. Paints, adhesives can all go off, particularly if they have been opened. If materials have been poorly stored then they can be damaged. Where possible cut off the damage and discard before improving the storage for next time. Offcuts can prove handy if you make small items but otherwise they will just frustrate. Recycled or donate these to free up more space.
It is worth dedicating time for a workshop declutter then your workshop will be ready for action when you need it.
Andy from Workshopshed
For the last 10 years, Andy has been making and repairing in a shed at the bottom of the garden. Some of his quirky projects have lead to magazine articles, talks and prizes.
You can find him on Twitter too @Workshopshed