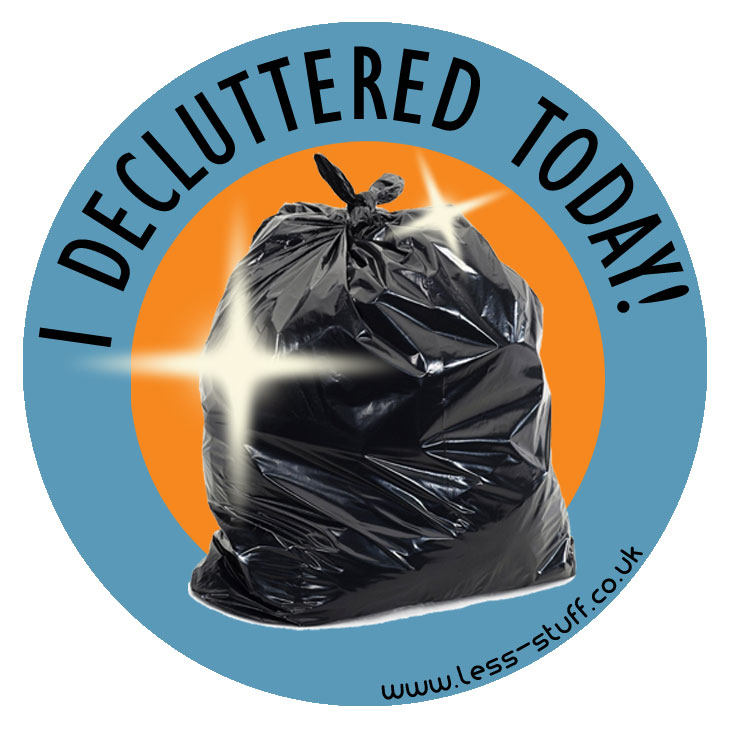 Coping when clutter gets too much to deal with
In a nutshell – some ideas to help you get over decluttering block when you feel it is all too much to deal with.
If you are following the idea of getting rid of a few things a day you are less likely to become overwhelmed with the sheer enormity of the decluttering task ahead. However, sometimes, even getting rid of 5 things might seem like too much to deal with. Here are some ideas for coping strategies when it's all too much.
Depending on how your mind works, and what motivates you, some of these ideas may work better than others. Personally I like to get the worst stuff done first so it's not hanging over me, others may prefer to leave the worst til last. 
Have you made it easy for yourself?
Do you have a decluttering box in an easy to get to place?
Do you have a bin bag for rubbish and non recyclables?
Have you got a way of getting the unwanted stuff out of your house as soon as possible?
Can you deal with just one tiny bit of it?
Put one thing away
Identify one bit of total junk and throw it away or put it in the recycling, try looking for broken things first.
Can you reward yourself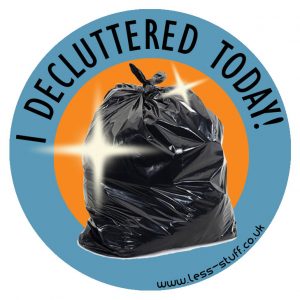 Old fashioned star charts work well for adults too – it can be a physical or an imaginary chart just make sure you have a reward at the end of it. The reward doesn't need to involve spending money, eating unhealthily or re-cluttering, it can be a long soak in a bath (imagine that after you have decluttered your towels!), time on the sofa under blankets with a good book, a nap, a long walk, a trip to a museum or library, watching a film or phoning a friend.
Do you just need a holiday from it all?
If you can, close the door on it, or even throw a blanket and have a break for a few days
Do something very different to recharge your mind – take a walk, go to the cinema – just be aware of the risk of re-cluttering if you are near shops.
Set a time limit so you don't ignore it forever.
Will upgrading help?
If you need a kick to get you to ditch unwanted stuff, try upgrading something you use a lot but doesn't work that well for you – a jug that pours badly, shoes that pinch – something you have been making do with for a while. I use this method for books – a new book is a reward for getting rid of 2 old books.
Don't beat yourself up
It's ok to get stuck, clutter is emotional stuff as well as physical and it can easily all get a bit much to deal with. Gentle decluttering is less likely to bring on total overwhelm but it can still happen and it's good to accept the overwhelm as totally normal. Be kind to yourself, it will pass.
Do you need more help getting over a decluttering block?
If you like the idea of gentle decluttering and learning how to make clutter control an easy habit please have a look at my book The Elephants in the Room. Readers are finding that it really helps to have a new approach to decluttering.
"I used to wildly swap from drowning in clutter to violently purging my belongings to streamline my home (later finding I had flung out something irreplaceable in my mindless scouring).
Gentle decluttering takes out the overwhelm. Easy prompts to inspire you to make the small changes to tackle your chaos while keeping your cool." Jenny