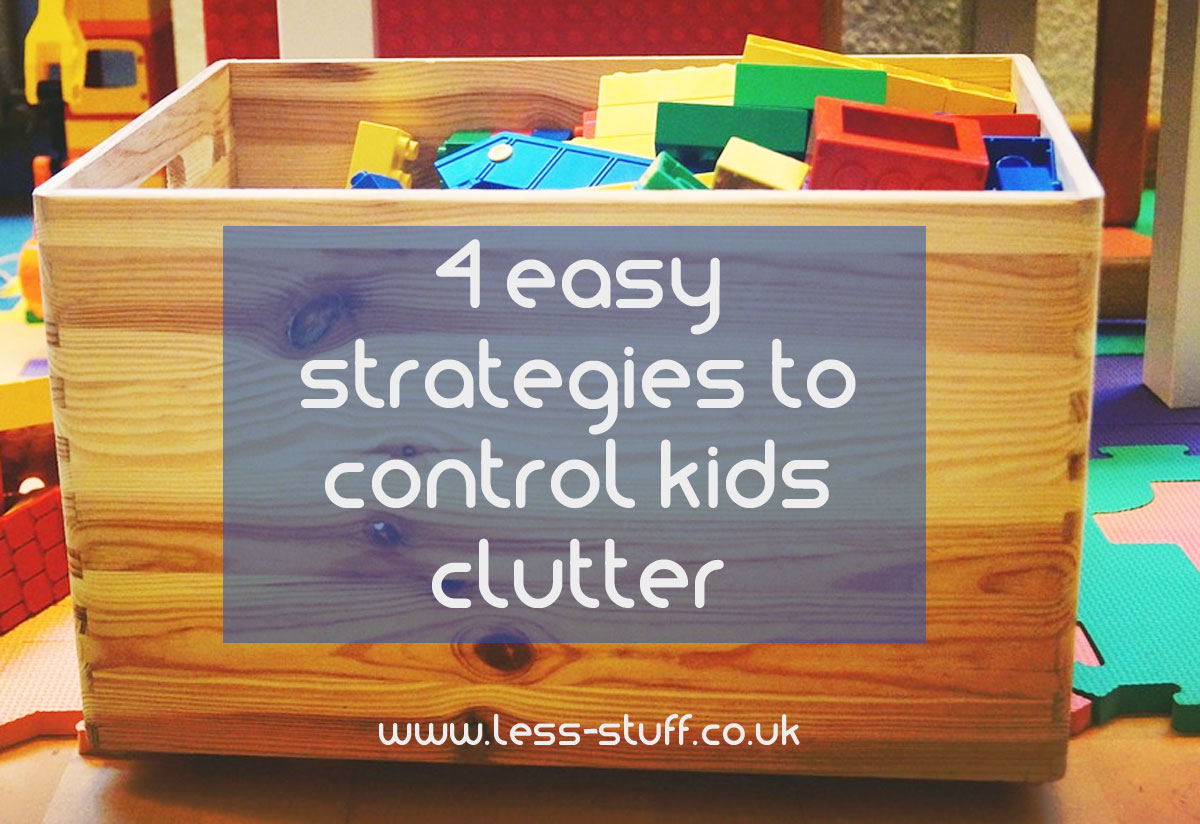 Four easy strategies to control kids clutter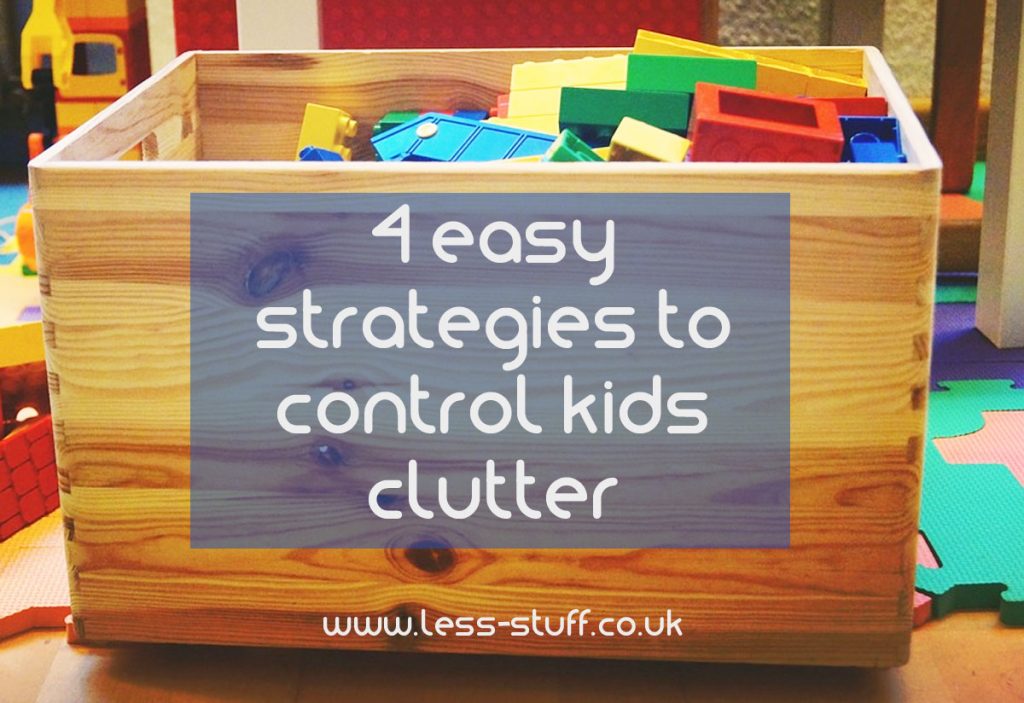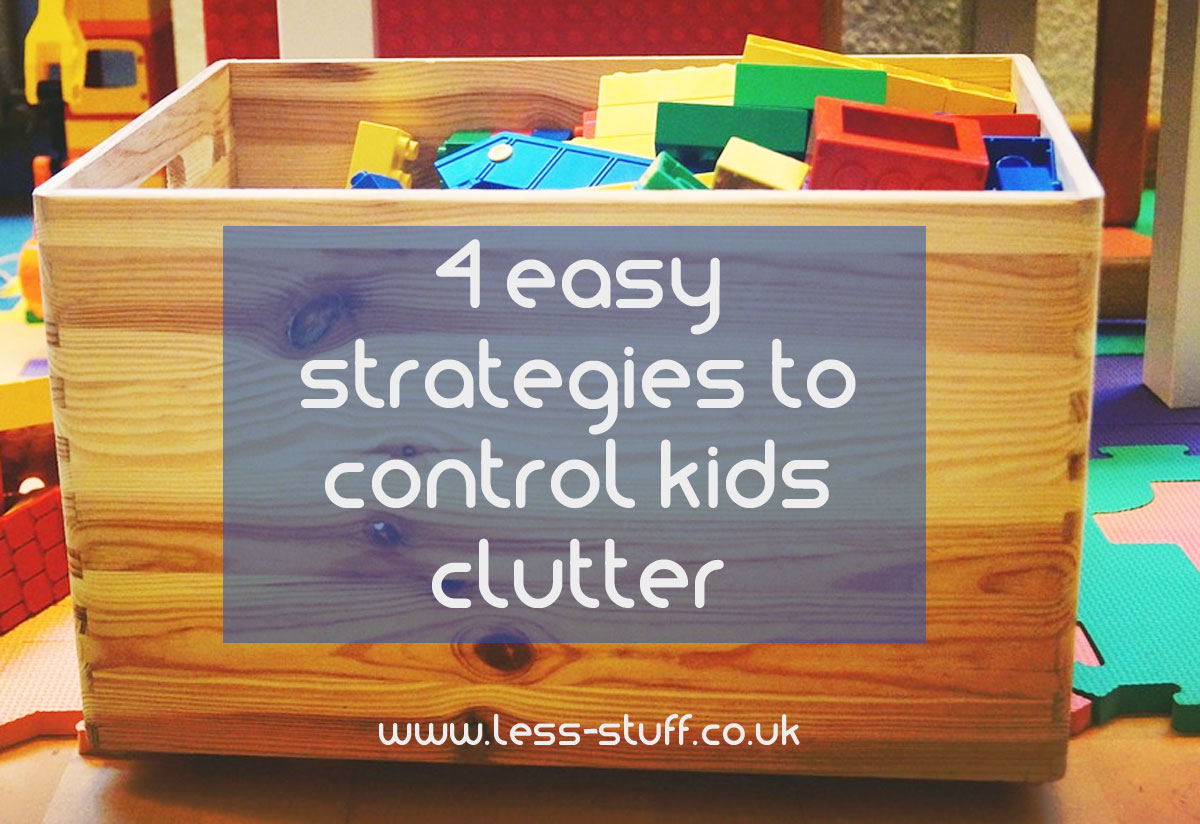 When I was little, I had far too many toys. We would all go off to a jumble sale at the weekend and come back with bags full of unloved teddies needing major surgery. We had board games with vital bits missing and books other kids had scribbled in. I had a room packed with stuff, cupboards overflowing and shelves rammed but even then, I had less than my son had as a toddler.
Kids clutter mounts up surprisingly fast. We are bombarded with adverts of happy kids with yet another flashing beeping plastic thing. Adverts are designed to make us feel that our parenting is not good enough unless we buy the toy. Even a trip to a museum holds the danger of the gift shop and birthdays and Christmas bring more and more into the home.
This post is about reducing what comes into the house. Decluttering with kids is a whole different subject and requires a light touch. You may have bought the toys but as far as the child is concerned the toys belong to them, so getting rid of things without their consent could be traumatic.
There are ways to calm down the chaos and here are some tips that helped me when my son was small, and continue to work now he is a teenager. They work for adults too!
Hide some of it away
Too much choice can be daunting and even make children anxious. If you packed half the toys away would your children still have enough to play with? You don't need to go that far. Just picking out a box of toys and hiding them away for a month can really make a difference. This method of rotating your toy collection keeps it fresh and new. It's fun to get the box out, and depending on the age of the child you could get them to help pack the next box.  Be careful not to pack away anything that is a current favourite.
[amazon_link asins='B00KX3MB0Q,B00BY61XY6,B077SGVPVD' template='ProductGrid' store='lessstuff08-21′ marketplace='UK' link_id='75b83eeb-10c9-11e8-8385-b3441c7a6ecf']
Share and swap
Book swaps work particularly well and can bring a welcome fresh breeze to a stagnant bookshelf. Children often have a book they crush on and want to hear over and over again.  There may be another in the same series that can save you the agony of another reading and there is no need to buy it new.
Use charity shops as hire shops
Buying second-hand not only saves you money, but it stops products going into landfill and saves on the environmental impact of manufacturing new things. Unlike our weekly jumble sales in the 1970's, charity shops often check that toys and games are complete. Think of the charity shop as a hire shop and take the toys back on a regular basis to replace with another.  If children are old enough to understand that it's someone elses turn to play with it now they can be involved in the process. Again, be really careful not to take a favorite thing back by mistake.
Give time not things
Reward charts got us through the toddler years and beyond. The reward was very prized if it was my time rather than an object. We would go to the cinema or theatre, take a train to the coast and feed chips to the seagulls on the beach. As one super reward for being consistently wonderful I took my son to Legoland but that was a rare expensive trip. Generally, the experience rewards cost less than a toy would have and we have wonderful memories.
[amazon_link asins='B0177HKUFI,B00WQ2S5DO,B00WQ2CEJ0′ template='ProductGrid' store='lessstuff08-21′ marketplace='UK' link_id='a1dc4b9b-10c9-11e8-ada6-07d66869cc3b']
Sign up to the less-stuff mailing list for loads of freebies that will help you control your clutter, save money and reduce waste.