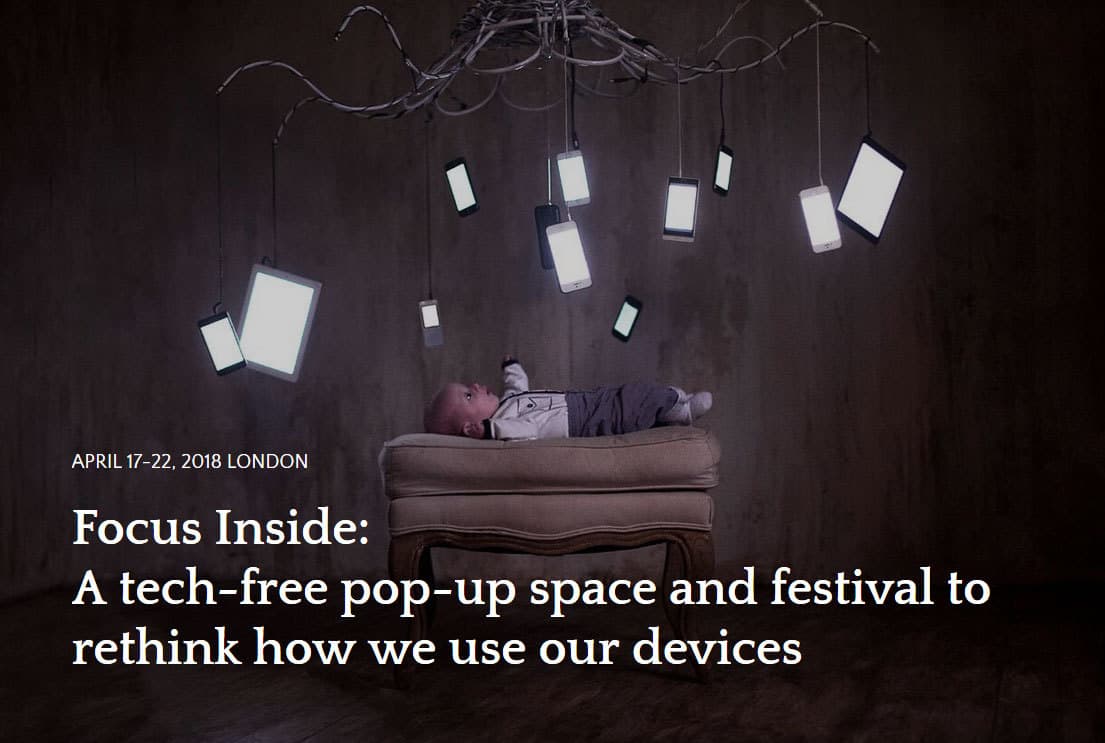 How much tech is too much? Focus Inside Festival London April 17-22, 2018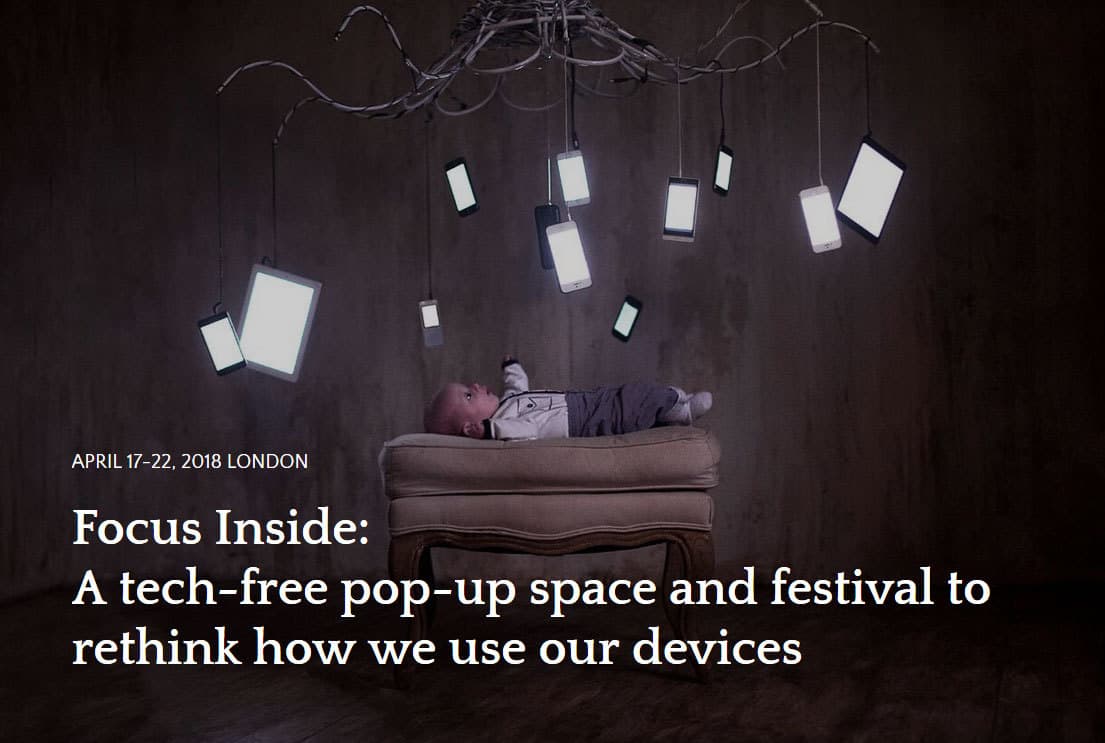 How much technology is too much? – It's time to get back control over our lives and make technology work for us  –
By Anastasia Dedyukhina, organizer of Focus Inside mindful tech festival in London
While our devices can be useful tools, we are definitely out of balance in using them today. We are bombarded with information, check our tech every few minutes for no particular reason, and barely have space in our heads to think or create. We reply to 70% of our emails within 6 seconds of them coming in. I myself worked in tech sector for many years, and have seen people burning out because they tried to be on top of everything 24/7.
Adverts keep the site running
I left my career in tech a few years ago and got rid of my smartphone. There was just too much unnecessary information in my life, too many meaningless signals I had to deal with. Having time and space to think was one of the best things I did for myself. In the last three years I did a TED talk, wrote a book, and started my own business – all thanks to this internal space I discovered when I limited, how much technology I use.
For a few years now, I wanted to recreate a physical space, where people have a chance not to be reactive, but think about what's important and reconnect with themselves. This is finally happening in London between the 17th and 22nd of April 2018 at Focus Inside, a unique digital detox pop up space and festival.
Think of it as "an art gallery meets a yoga studio in a science conference, and they all have fun together".
The idea behind Focus Inside is to question how we use technology, why we feel so dependent on it, should it be happening, and how we can have a healthier relationship with it. We are bringing together artists, scientists, designers, programmers and coaches to discuss, how technology is changing us and how we can take control over it and our lives."
The event consists of two parts – a pop-up art digital detox space and a festival program. Visitors to the digital detox space will be asked to leave their phones aside and perform simple creative or mindful activities that will help them reconnect with themselves – through writing a real letter to the loved ones, expressing their own feelings through drawing or creating things with their hands. Access to the space is free and open to the public with no registration.
Adverts keep the site running
Like what you see? The less-stuff Patreon Community gets early access, exclusive content and freebies. You can become a Patreon for as little as 22p a week!
The festival program includes talks and panel discussions, as well as workshops.
Some topics covered during the festival are:
How technology is changing us and what we can do about it,
What parents can do to get back in charge of their children's screen time,
How we can design technology in a more ethical way,
How human creativity works and how technology changes it,
How to use your devices in a healthier way, explained by people working in technology.
Confirmed speakers include:
Kwame Ferreira, CEO of impossible.com (also known as husband of Lily Cole), Dr Henrietta Bowden-Jones, Director of the only clinic in the UK that treats digital addictions, Noel Janis-Norton, bestselling author on parenting, and Silja Litvin, former model-who founded a digital mental health app.
The festival program also includes an ethical tech hackathon and panel that challenges designers and programmers to stop "hacking" people's attention and design tech that helps us be more human.
In addition to the interactive digital detox space and talks, the space will host practical workshops that help visitors learn to use technology in a healthier way and reconnect with themselves – with their creativity, bodies and dreams. Workshops will range from mindfulness and calligraphy to creating vision boards, dancing and gong meditation. Full program is available at www.focus-inside.com/program
Focus Inside is funded by Westminster City Council, in association with the Church Street Futures Group, to involve and engage the local community in arts and cultural activities as part of the Church Street regeneration programme.
I hope to see you around! We've put together a really great program, and most workshops are donation-based, so you can pay whatever you feel like.
Adverts keep the site running
Focus Inside is popping up between the 17th and 22nd April on 35-37 Church Street (nearest tube: Marylebone or Edgware road) and is open on the following days: Tuesday 3-9pm, Wednesday through Saturday 11am – 9pm, Sunday 11am-6pm.