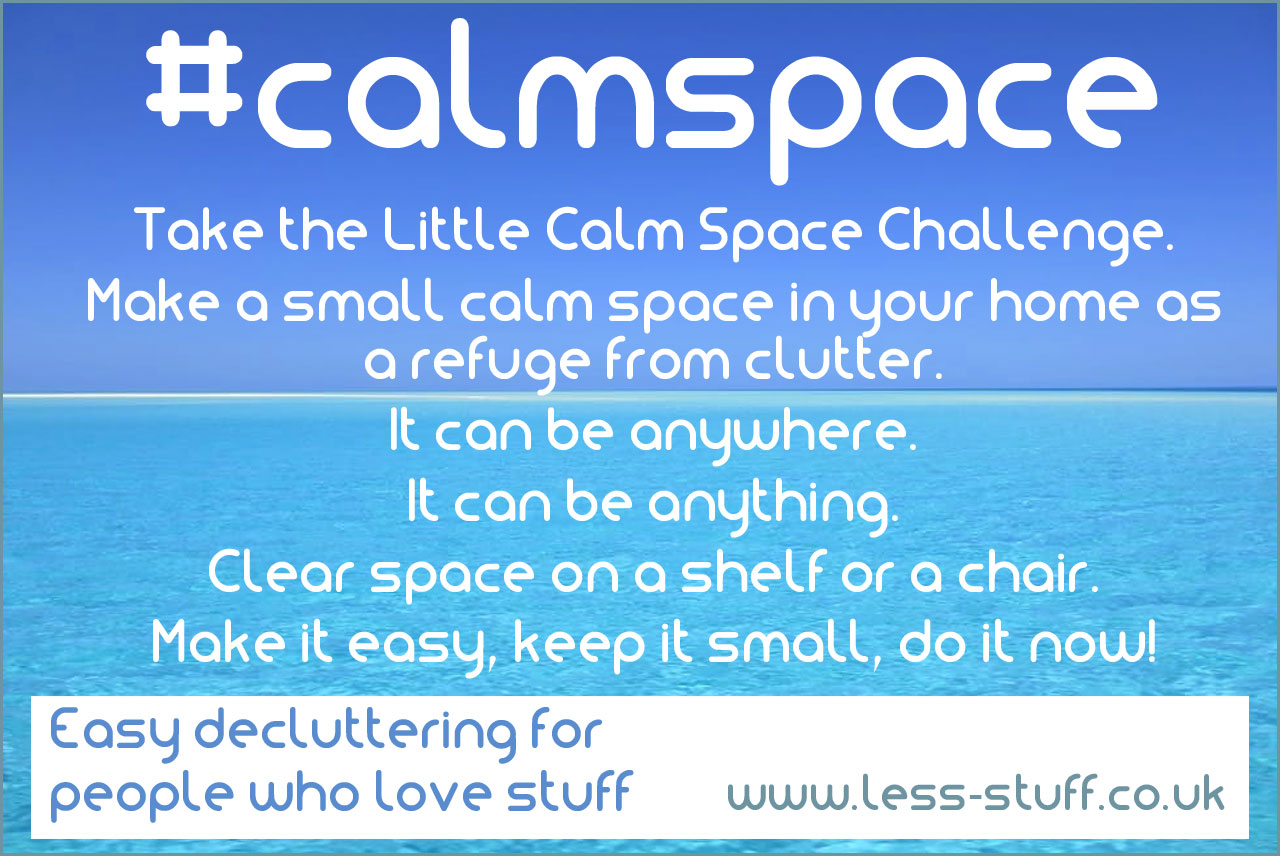 Little Calm Space Challenge #calmspace
In a nutshell – the idea is to spend occasional 5 minutes creating little calm spaces wherever we are. They can be tiny spaces, but they need to exude calm!
This little challenge is inspired by the less-stuff Facebook group. We were chatting about what helps us when we get overwhelmed by clutter and don't know where to start, and the idea of having just one refuge from clutter came up.
Adverts keep the site running
There are well documented links between sensory overload and stress and the visual overload from cluttered spaces can get to the most zen of personalities eventually.
so………
In the spirit of keeping things small and manageable I'd like to invite you to the Little Calm Space Challenge.
This challenge is to make breathing spaces in our homes and workplaces.
Adverts keep the site running
Like what you see? The less-stuff Patreon Community gets early access, exclusive content and freebies. You can become a Patreon for as little as 22p a week!
It will cost you nothing but time.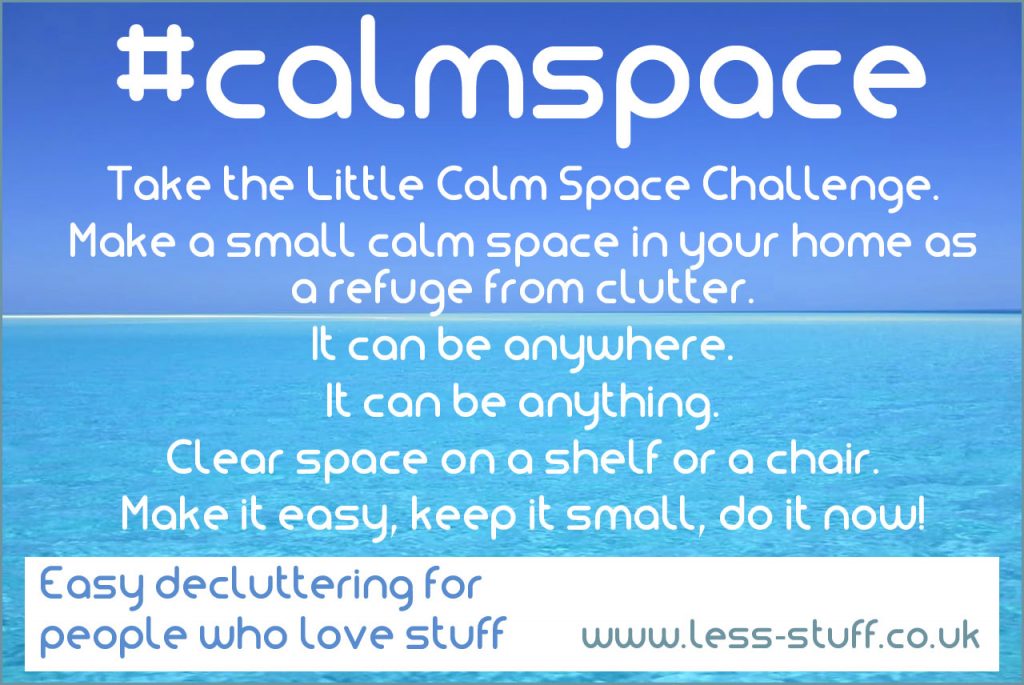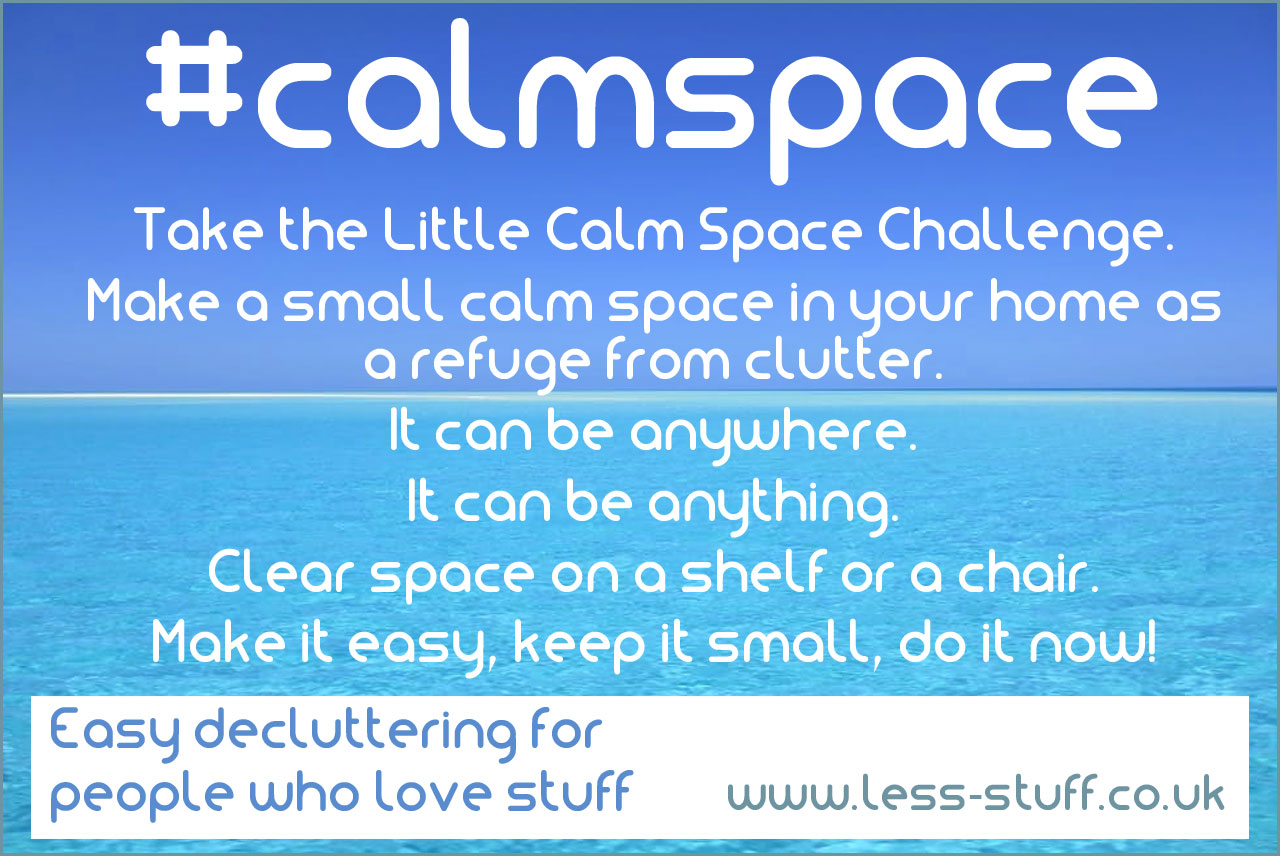 You will need
5 minutes every now and then
Somewhere to take your box when it is full
If you don't have a box ready don't let that stop you! Just find somewhere to put things you no longer want until you can get rid of them.
Start small
Identify one lovely thing in your home. One thing you like looking at, that reminds you of nice things and makes you feel happy.
Clear space around that thing so you can enjoy it better.
Some things around it might need decluttering, some might be in the wrong place, some might need recycling or throwing out.
It doesn't have to be a huge space, just enough of a border of nothingness around the thing you love so it stands out and you can appreciate it.
Stake out a space to sit
Identify a place you like or have to sit.
Keep this place decluttered for a whole day.
Treat it as if it was toxic to clutter and will burst into flames if you use it as a dumping ground.
Guard this safe space, police it, remove anything from it as soon as it hits it.
What do you look at daily?
Starting the day looking at a big heap of makeup and toiletries is not great.
Is there an area in the bathroom you can designate as a Little Calm Space?
Do you boil the kettle for tea every morning? Can you make some space around that?
Don't make a meal of it
This is not about overhauling storage units or pulling out all your books.
Just take a few minutes
Dip in
Move stuff around
Breathe!
Share it
Please share your lovely Little Calm Spaces using the hashtag #calmspaces and come and join in on Facebook, Twitter and Instagram. This is an ongoing challenge with no end date or start date, you can dip in and out whenever you like.
Adverts keep the site running
Here is a nice calm picture to get you in the mood.