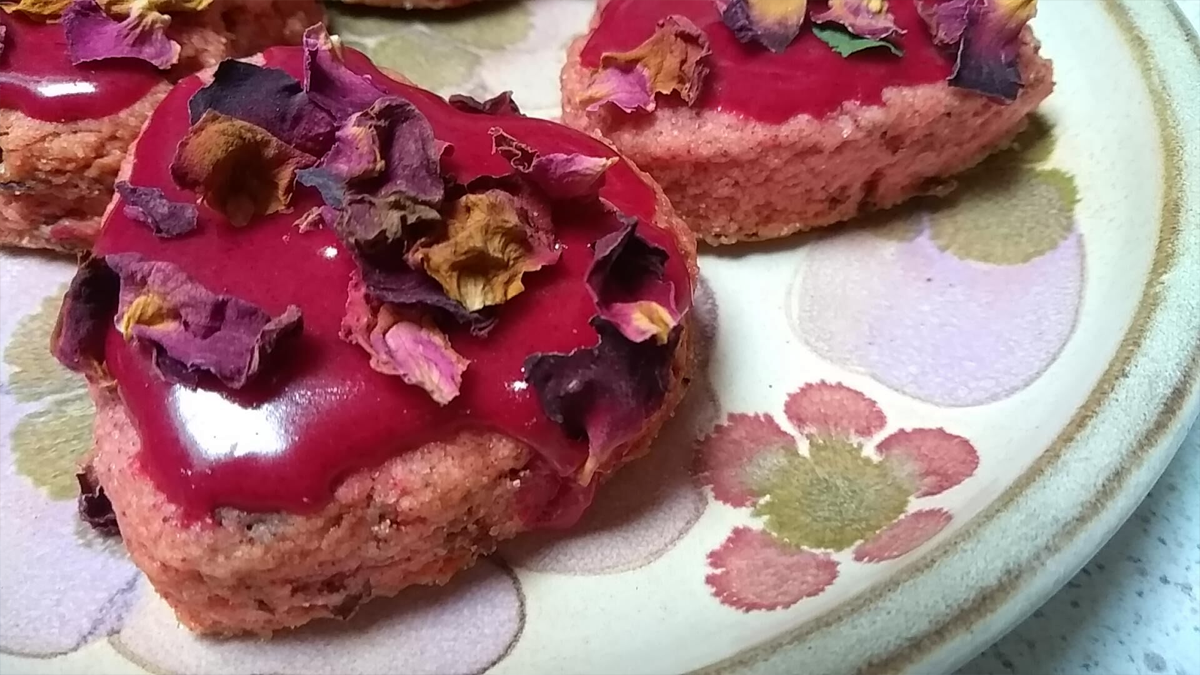 What can you do with beetroot powder and rose petals?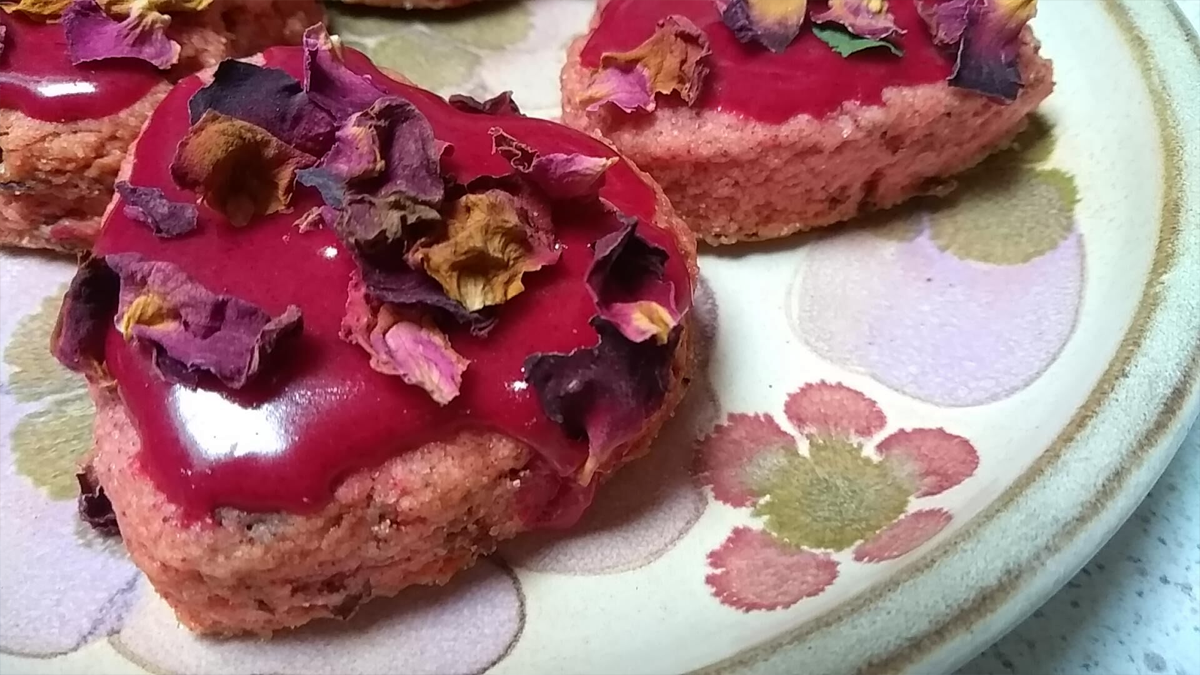 The nice folk at www.buywholefoodsonline.co.uk sent me a box of unusual ingredients for me to try out.  I was keen to try out the beetroot powder, I like beetroot anyway, especially in chocolate brownie form but I don't like the hassle of cooking and peeling it.

Beetroot powder is still good for you but it is a lot easier to use. And I found out that if you use it as colouring a little goes a very long way! I can't identify the taste of beetroot in these biscuits at all but I think it is adding a slight earthiness which balances out the floral element.
These edible rose petals are something I have never considered cooking with.  I had no idea what to expect so I treated them like I would use lavender in shortbread. The end result was a very delicate rose taste that comes after you have finished the biscuit. It is not over powering and it goes really well with a good cup of coffee. If you have time to leave the petals sitting in the sugar overnight you should get a stronger taste. They are a little bit crispy when you eat them so combined with the silky icing and the crumbly biscuit you get a load of nice sensations going on.
This is a very easy and versatile recipe based on normal shortbread. You could vary the amount of beetroot powder to have a more pink and delicate biscuit or you could add a little more to get something gory looking for Halloween.
It would be nice to use a white icing with pink drizzled onto it too. Don't expect to be able to make neat biscuits using the rose petals – you cannot easily get a clear cut through them. Rustic is delicious though!
Rose petal and beetroot shortbread
A basic shortbread recipe with some added ingredients to make very special biscuits with a lovely aftertaste. The colouring is from beetroot powder which adds a tiny taste that works very well with the rose petals.
These work just as well without any icing if you prefer something less sweet.

Ingredients
10

g

dried rose petals

55

g

granulated or caster sugar

125

g

butter or hard margarine

180

g

plain flour

10

g

beetroot powder

50

g

icing sugar

2

tsp

milk, rice, soya or cow
Instructions
Icing
I used 1 tsp of beetroot powder to get a really deep red when mixed with the icing sugar. You don't need much to get a pink colour. Mix well to get rid of any lumps then either drizzle over the biscuits or blob a teaspoons worth on each one to spread out later.

Disclosure – I have not been paid to develop this recipe or write this post. Buy Wholefoods Online sent me a box of ingredients for review purposes.