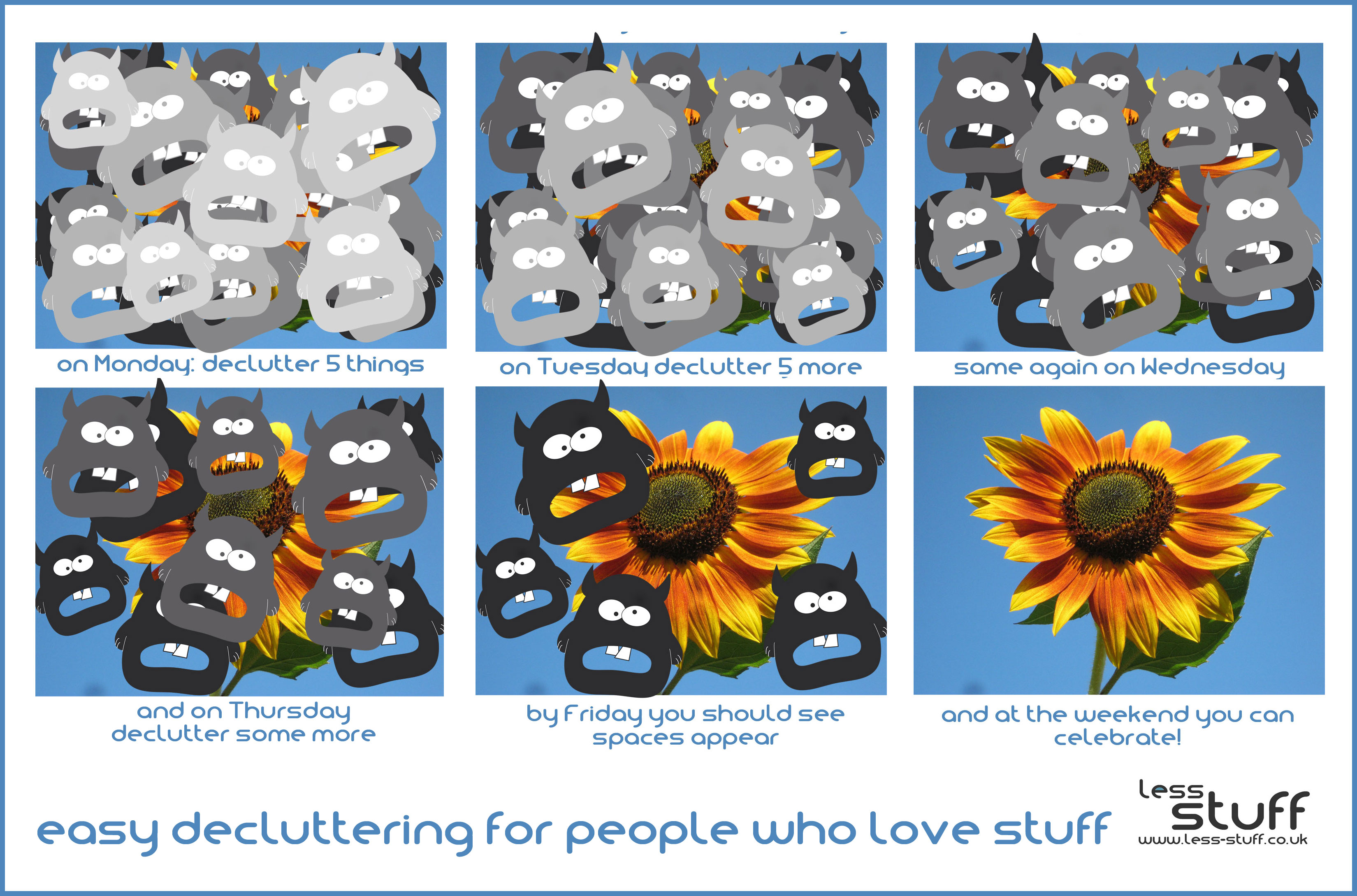 5 Days of Gentle Decluttering starts 24th April 2017
This is decluttering with a difference!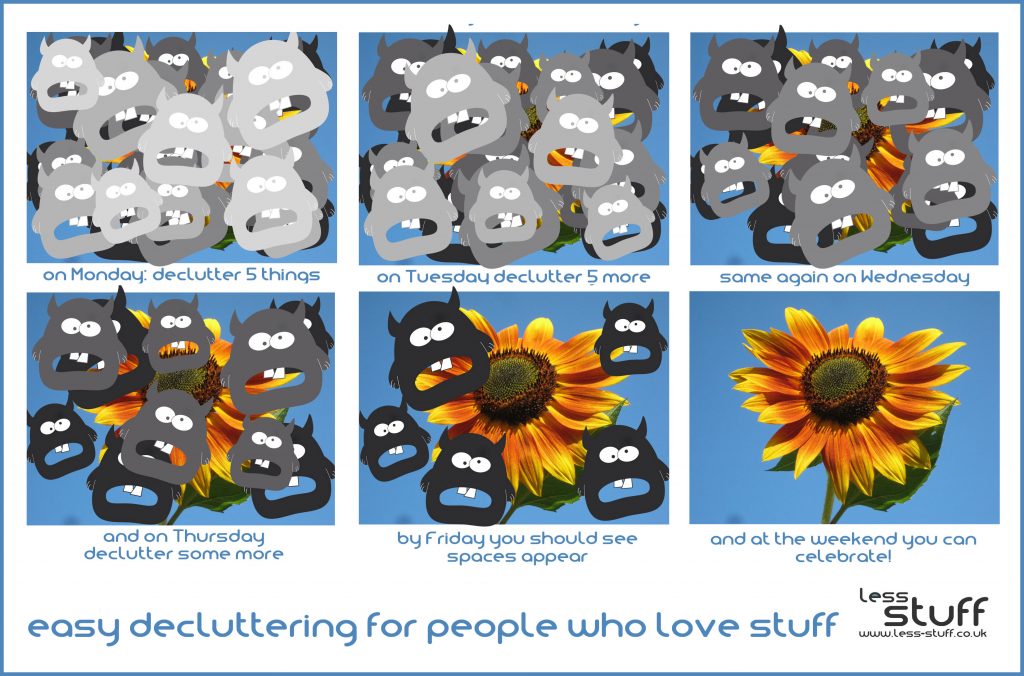 There is no turning cupboards out, no overhauling, no purging and no sad partings from things you love. It is amazing how much stuff you can get rid of without any stress or hassle using the 5 a day method. If you did it all year, for just the weekdays you would get rid of thousands of things!
Starting on Monday 24th April we will be having a declutter-along in the less-stuff Facebook group.
If you prefer Twitter, I'll be posting prompts there too.
And if you don't like social media, this post will give you all the instructions. I'll warn you when there is a spoiler alert!
Get ready to declutter!
Find a box to declutter into. Put it somewhere you cannot miss it. Mine is at the foot of the stairs which is the centre of the house so I cannot miss it. Having a box ready and somewhere easy to find will make decluttering easier for you.
Decide where the box is going at the end of the week. Do you have a favourite charity shop? Will you need to arrange transport? Sort this out now so on Friday or Saturday you can get rid of the decluttering box asap.
Plan a non cluttery reward. Not a shopping trip! Be nice to yourself after you get rid of the clutter. Meet a friend for a coffee, have a nice long bath, do something for yourself.
Think small for big changes
This week I suggest you declutter things of little value that you do not want to sell. That way you can get them straight out to the charity shop at the end of the week.
Declutter just 5 things a day
If you are used to the harsher decluttering methods it may seem a bit pointless to get rid of a few things at a time. It does work and it has many benefits over purging. There is no risk of you throwing out something by mistake for starters.
The plan for the week
Stop reading right now if you prefer to be surprised with ideas and prompts for places to declutter. I'll post on Facebook and Twitter first thing in the morning, UK time.
Click on the links for detailed instructions for each area. If you don't want to do one of these there are more to choose from in the random decluttering prompt generator.
Monday
[urlpreviewbox url="https://less-stuff.co.uk/sink/"/]
Tuesday
[urlpreviewbox url="https://less-stuff.co.uk/wont-come-handy-one-day/"/]
Wednesday
[urlpreviewbox url="https://less-stuff.co.uk/things-dont-fit/"/]
Thursday
[urlpreviewbox url="https://less-stuff.co.uk/shelves/"/]
Friday
[urlpreviewbox url="https://less-stuff.co.uk/bowls-boxes/"/]
Saturday
If you can't get rid of the box on Friday then try your best to get it out of your house on Saturday. And don't forget to reward yourself!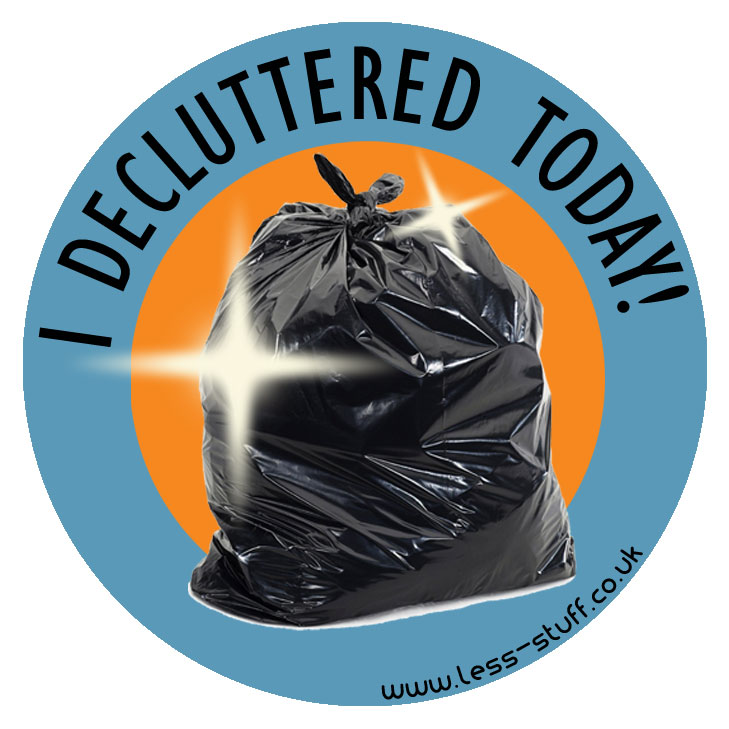 But wait, there is more!
Most weeks I'll post ideas for places to declutter in the Facebook group. If you want to declutter your kitchen or bedroom I have books with all the instructions and details to help you focus on those 2 areas in the less-stuff shop.
I've also got a gorgeous calander you can print off and use at any time of the year.